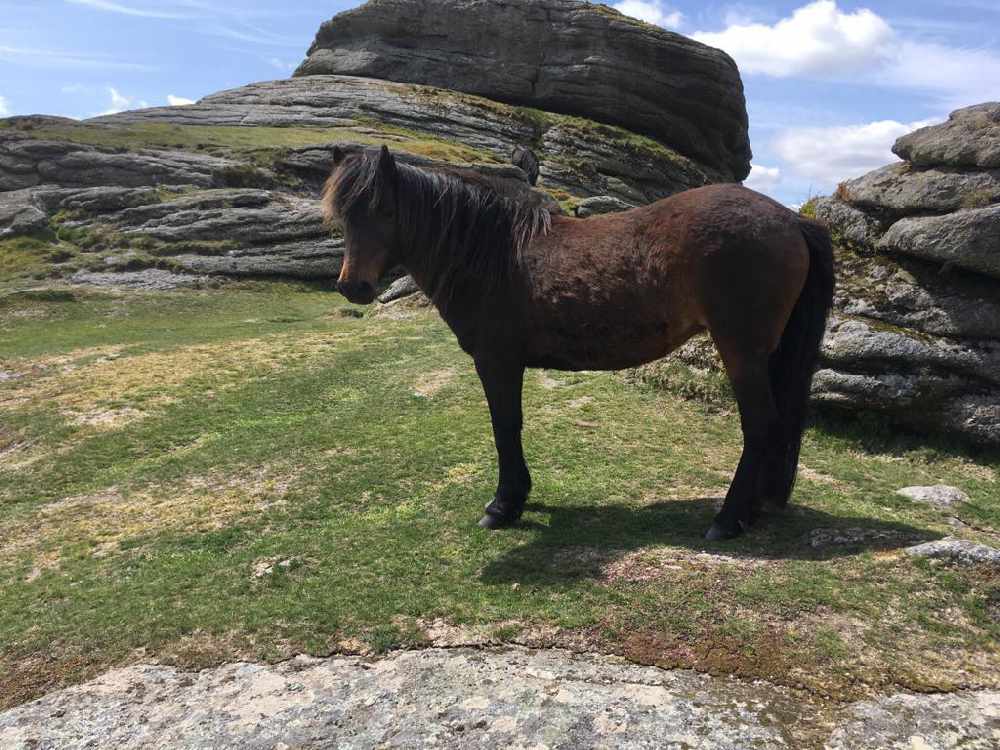 View From Haytor on Dartmoor last weekend (Image: Daniel Clark)
Extra marshals to be deployed
Extra marshals will be deployed across Dartmoor National Park this summer as they once again expect visitors to arrive in their droves.
Following the end of the first lockdown, the summer and autumn of 2020 saw intensive visitor pressure on Dartmoor, and while the increase and greater diversity of visitors was welcome, it has bought significant challenges.
A Dartmoor National Park Authority meeting on Friday morning heard that they expect the challenges in 2021 to continue and be just as great, and visitors to once again flock to the Moor.
But in an attempt to limit and respond to the challenges that this presents, a joint visitor management plan for 2021 has been agreed, and the National Park are in the process of securing additional money from the Police and Crime Commissioner, Forestry Commission and others to support 'National Park Marshalls', as well as using £40,000 from reserves to help fund them.
The Park will aim to encourage visitors to the Moor, but to give them the tools to enjoy the park and act responsibly, but issues a warning that if people ignore the rules and start to damage Dartmoor, then they will consider impose restrictions under the Countryside and Rights of Way Act, and will start the process now as a precautionary measure in case it is required.
Alison Kohler, director of conservation and communities told Friday's meeting: "We are aware that we will need to influence people's decisions and behaviours from the point they decide to visit Dartmoor right the way through to the point that they leave. This will require a mix of good communications, infrastructure and people on the ground to help visitors make the right decisions and to enjoy the National Park responsibly.
"This Plan is about helping everybody enjoy Dartmoor but in ways, and at times and locations that do not cause harm to the special qualities of the National Park and to local communities and crucially to support local businesses as they re-open and are able to welcome people back.
"The sheer number of people and cars and behaviours of a minority of visitors has been challenging to manage, and we expect visitor numbers in 2021 to be high. We are not discouraging visitors but we aim to give them the tools to enjoy the Park and act responsibly. This won't solve all the problems we have but will respond to new issues and opportunities where we can
"We aim to encourage and welcome visitors but ask them to plan ahead and give them the information they need to have a nice visit and use the National Park in a responsible way."
The meeting heard that a visitor survey showed that 22 per cent of people who visited Dartmoor last summer were first time users, with members heating that new visitors from a potentially more diverse socio-economic base is a positive outcome, both for the individuals who have 'discovered Dartmoor' and for the place, particularly if we can engage with those visitors and encourage a deeper connection with Dartmoor.
But it heard that some of the issues that the extra visitors to the Moor caused included camping in the wrong location in large groups and associated damage caused by fires, litter and human waste, motorhomes parking overnight on roadsides, inappropriate parking, off-road cycling where there is no legal right to do so, and threatening behaviour to officers of the Authority.
Two Bridges and Wistman's Wood, Bellever/Riddon Ridge, Foggingtor Quarry, Roborough Down, Shipley Bridge, the Dart Valley and all river and reservoir sites were named as the sites that were particularly challenging during 2020.