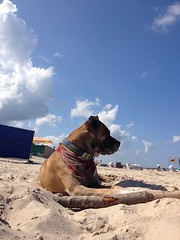 Get some exercise!
Kennel Club says restrictions threaten social bonds
The Kennel Club is calling on dog owners who live in North Devon, as well as visitors to the area, to respond to a Public Spaces Protection Order (PSPO) that will keep pets off a number of beaches, cemeteries and parks. Dogs will need to be on a lead order for large areas of land such as Braunton Burrows and the Tarka Trail. But stopping dogs running free could affect their ability to exercise well and affect friendships, according to the club, which runs the famous annual show Crufts.
The Kennel Club says it is not opposed to the principle of restrictions on dog owners and walkers. They say: "It is often overlooked that problems associated with irresponsible dog ownership affect responsible dog owners as much as those without dogs.
Ed Hayes, Public Affairs and Policy Manager at the Kennel Club, said: "We believe that the PSPO proposals in North Devon have the potential to be particularly impactful as they may involve the exclusion of dogs from sites such as beaches and sport fields. This could affect the ability for dogs to be properly exercised and may pose a threat to the social bonds between dog walkers who have previously been able to walk together."
North Devon District Council say they're responding to concerns about anti-social behaviour by dog owners. The consultation ends on 9 August.