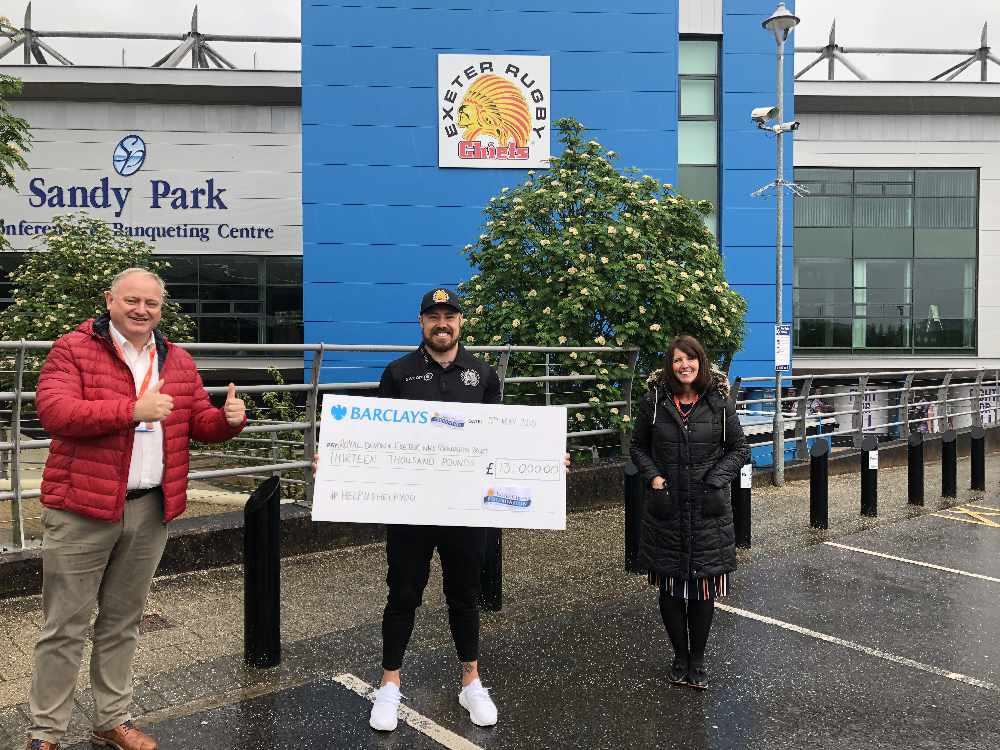 But no hugging star Nowell as he presents cheque!
Don't you just want to hug rugby star Jack Nowell, when he's handing you a cheque for £13,000. Clearly that's not on, but Ian Roome and Debbie Allen from the RD&E Charity are happy enough to stand two metres from him at Sandy Park to collect the proceeds from an Exeter Chiefs Foundation have today handed over a £13,000 to representatives of the Royal Devon & Exeter Hospital Charity online auction, in which signed memorabilia collected by the club over the years went under a virtual hammer.
Signed shirts, training tops, together with international kit and shirts from rival clubs, were among the many items on offer. All 60 items were bid on, helping to raise the cash for the #HelpUsHelpYou appeal.
Tony Rowe OBE, chairman of the Exeter Chiefs Foundation, added: "As a charity and as a club, we're delighted that we have been able to help raise this money for the #HelpUsHelpYou appeal. For us, the Royal Devon & Exeter Hospital is at the forefront of helping to fight this outbreak, so it's brilliant that not only the Foundation, the Chiefs, but our supporters, and supporters of rugby from all parts of the world have been able to raise such a brilliant sum of money."
Ian Roome, head of fundraising at the RD&E Charity, added: "We are extremely grateful to Exeter Chiefs and everyone who has contributed to this outstanding achievement. This amount of money for our #HelpUsHelpYou appeal will make a huge difference to our staff and help us to support their physical and mental wellbeing during this difficult time.Thank-you again to everyone involved."
In a special, socially-distanced presentation carried out at Sandy Park, Exeter Chiefs, England and British Lions star Jack Nowell handed over the cheque to Ian Roome and Debbie Allen from the RD&E Charity.