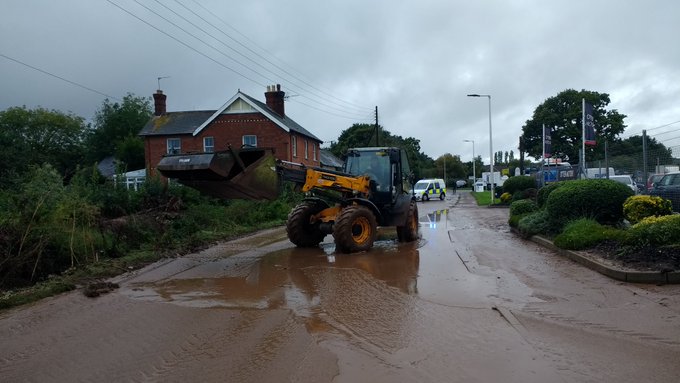 Image: @otterypolice, Twitter
SWW says incomplete work on sewers may have contributed to the floods.
Police have thanked people in Ottery St Mary for helping with the clear up, following flash floods which affected homes in Mill Street after torrential rain yesterday (Monday 9th September).
A local farmer helped clear the road and residents fed emergency services involved in the clear up.
It's thought the flood was caused by a blocked drain.
South West Water's Director of Wastewater, Andrew Roantree issued the following statement: "Since 23 August South West Water has been working on the sewer network in Ottery St Mary to divert a section of the pipe that was blocked by a third party.
"Regretfully yesterday's unusually heavy rainfall occurred before the new section of pipe had been completed. This may have contributed to the flooding on the roads in the immediate vicinity.
"We will continue the repairs as a matter of urgency."