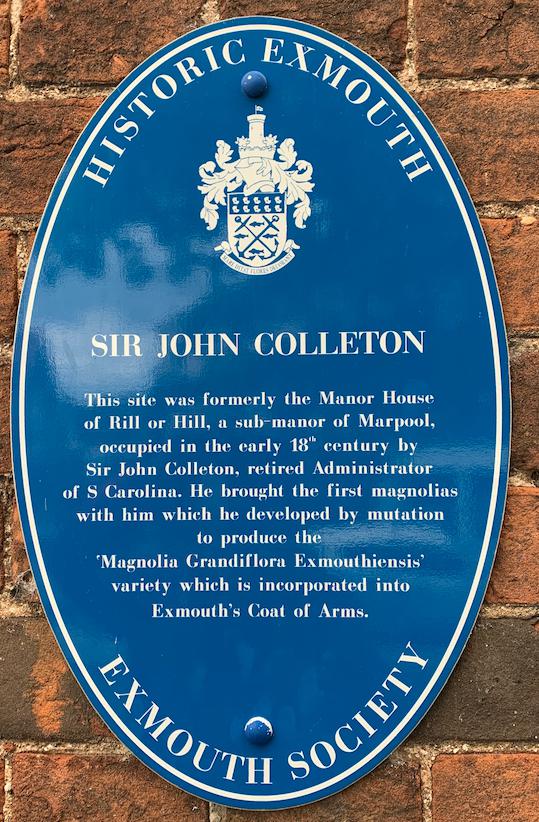 Economical with the truth?
Sir John Colleton owned slaves
Streets in Exmouth and Exeter commemorating a family that owned plantations in America could be reviewed.
A Devon county councillor is calling for consideration to be given to statues, plaques and street names in support of the Black Lives Matter Movement. Independent councillor Claire Wright (Otter Valley) has worked on the issue with sixth formers from King's School in her Ottery St Mary ward. One of the names in her motion being put to Devon County Council is Sir John Colleton. A blue plaque commemorates him in Exmouth.
Sir John held a large amount of land in South Carolina taken from Native American Yemasses and worked by African slaves, of whom his family owned hundreds. South Carolina was the northern outpost of plantations of the British Empire, and many streets squares and houses in the state still carry the Colleton name. Twelve thousand acres of Yemasses land were gifted to him as a 'Barony'. There's still a Colleton River there, as well as a posh golf and country club.
The eighteenth century colonialist is not thought to have spent many years on his American land, although his father and son both did. The son, the Honourable John Colleton bought 77 acres of land in Charleston Neek in the state which he renamed Exmouth after his boyhood home, although that later became Bachelor's Hall and was sold to the state governor.
Sir John is credited with introducing magnolia trees from his American plantations into Britain around 1726. A number of streets and Exmouth's main shopping centre are also named after magnolias. The flowers appear in Exmouth's coat of arms, which was adopted in 1947 (and again in 1997 when Exmouth Town Council was re-formed). The 'Exmouth' hybrid was propagated from an original tree that met disaster in 1794 when someone inadvertently chopped it down. That original spawned more as the tree passed on rotation to local nurseries, with magnolias selling for about five guineas each - about £500 today.
Sir John died in 1754 and is buried at St Michael's burial ground at Withycombe Raleigh, Exmouth. A blue plaque on the site of his former home that is now Exmouth Library, is dedicated to him. Colleton Way, Exmouth and Colleton Crescent in Exeter are also named after Sir John.
Cllr Wright's motion that she wants Devon County Council to consider says: "The council will invite every Devon town/parish/city councils to review any landmarks, street names or statues that implicitly celebrate slavery, with a view to clarifying their history, such as the historical plaque in Exmouth for slave trader, John Colleton, who also has three streets named after him."