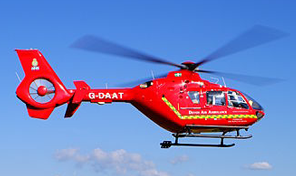 New corona kit installed
Devon Air Ambulance is back in the air after safely adapting its helicopters to reduce the risk of coronavirus transmission between crew and patient.
New measures include partitions between the pilots cockpit and the main treatment area, newly designed throat microphones that can be worn under the helmet and in full personal protective gear and a new bracket which enables a full-face visor to be worn on our aviation safety helmets to reduce transmitting the disease from pilot to patient.
The adaptions have been made after the charity was forced to ground its aircraft at the end of March due to not being able to operate safely without transmitting coronavirus, it was up to the critical care car teams to take up operations around Devon.
The Exeter-based aircraft will once again be taking to the skies over Devon responding to patients from 7am to dusk every day. As a first step, we will be deploying to patients by air, treating them on scene and then assisting local crews to convey patients to hospital by land ambulance.
Nigel Hare, operations director, says: "It's clearly great news for Devon that we can restart our air operations and over the coming days and weeks we will carry out a phased reintroduction of our service. It's important that we do this in a measured way, as our clinicians reinstate more advanced medical treatments whilst operating with new aircraft modifications and wearing in flight the PPE necessary to safeguard our patients and themselves from Coronavirus.