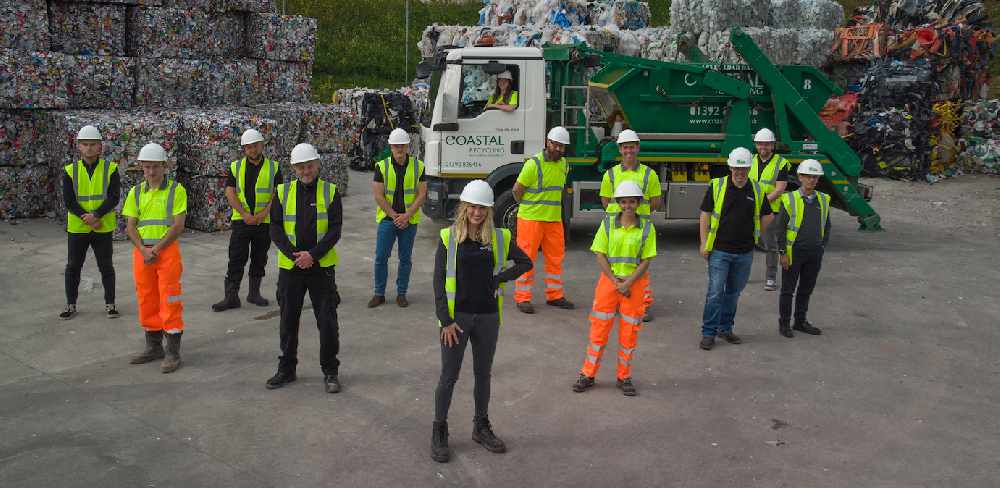 Owning the company isn't rubbish (courtesy: Coastal Recycling)
Coastal Recycling passes company to staff
A major Devon business has become owned by its employees, in a similar way that department store John Lewis's staff are 'partners'.
Coastal Recycling, Devon's largest recycling company, is now operated as an Employee Ownership Trust (EOT) after its previous owners, all local people, decided to pass on the company as a legacy to their employees. Two of them are staying on, but now they'll share ownership with around 140 workers.
People who work for employee-owned trusts get tax breaks from the Inland Revenue if their company is successful enough to pay a bonus each year.
Coastal is based in Exeter and is one of the largest independent providers of recycling, material processing and refuse collection services in the county. Its customers include local authorities, the NHS and more than 2,000 commercial businesses.
Employee Ownership Trusts are becoming increasingly common in the UK. As well as the John Lewis Partnership, Riverford, the Devon-based organic food business, became employee-owned in 2018. Such a model means staff can share in the businesses' success.
Emily Delve, Coastal Recycling's commercial director, says, "This fantastic news means the business is now operated for the benefit of all the 140 people who work here. Our teams feel invested in the business and have a direct incentive to build a successful organisation that continues to deliver great service to customers. Staff will also share in the Group's financial success through profit related bonuses."
The change to an Employee Ownership Trust was supported by funding from Lloyds Bank.
Managing director Steve Hadley says: "Early on, we recognised the importance of our staff as a key driver for our business and have invested heavily in them and the business in recent years. By becoming an Employee Ownership Trust we have protected the independence of the business and given our teams a vested interest in the Group they work for and the ability to share in its success."
Deb Oxley OBE, chief executive of the Employee Ownership association (EOA), said: "We congratulate Coastal Recycling and its employee owners on their move to employee ownership securing the values and independence of the business for the longer term.
"Businesses that give employees a stake and a say build trust and shared responsibility, therefore uniting leaders and employees behind a common purpose. This leaves the business in the best position to flex and adapt to recover from challenges and to deliver on new opportunities."