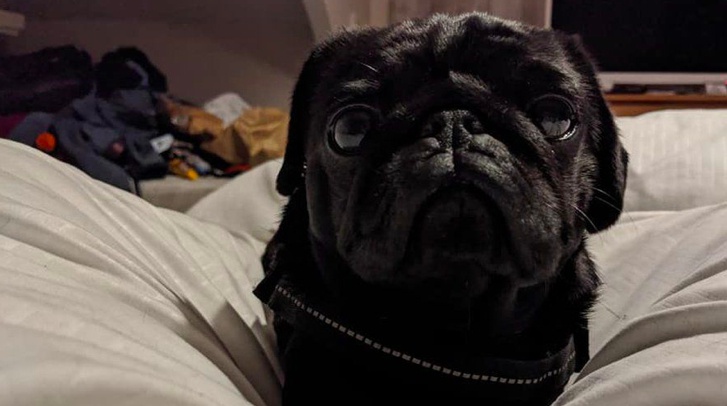 Attackers tried to steal Paddy (courtesy: Allie Knight)
Woman hit in face by attackers
A young woman walking her dog has been subjected to a vicious attack in which she was repeatedly hit in the face.
The 22-year-old student, named by the BBC as Allie Knight, was repeatedly hit during the attack, leaving her with bruising to face, neck and wrist.
Two men are now being sought following the incident in the Mutley Plain area of Plymouth on Monday night between 9.30 and 10 p.m.
Ms Knight says that her attackers attempted to steal her pet pug Paddy, pictured. She told reporters that she wanted to warn others to be careful at night and dog walkers should go out in pairs. Ms Knight told the BBC: "I got shoved from behind at first, and got punched in the face once I was on the ground. They searched my pockets, but I didn't have anything on me.
"Then they went for the dog but I kept hold of the leash, and I remember they kept trying to take it from me...I had my motorcycle gloves on, so I gave a few punches back, grabbed my dog and tried to run, but one of them grabbed my wrist, and they both took me to the ground again and started hitting me in the face whilst I just gripped her as tightly as I could."
Police are appealing for any witnesses who may have heard or seen anything to contact them on 101 or email 101@dc.police.uk quoting crime reference CR/002880/21.