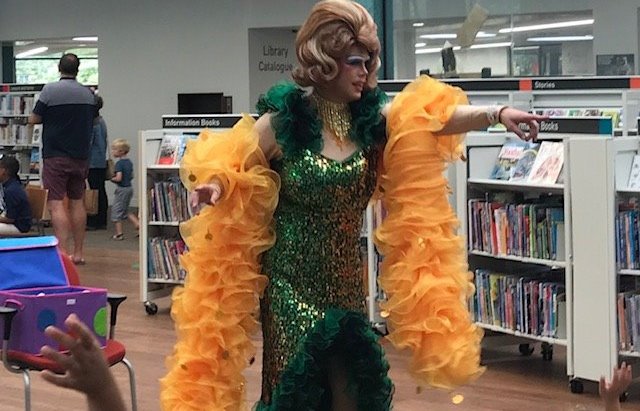 Image: @DevonLibraries, Twitter
Mama G appeared at Barnstaple Library today and is due at Bideford tomorrow.
Libraries Unlimited, which runs libraries across Devon, is being criticized for its "inappropriate" choice of storyteller.
The charity, which runs libraries across the county, tweeted last night (Tuesday 7th August) to say that drag act Mama G would be at Barsntaple Library today (Wednesday 7th August) and in Bideford tomorrow (Thursday 8th August).
People were quick to point out that a man dressing up as a woman was not "being who you are" as their tweet suggested. Others went on to suggest it was totally inappropriate for children to learn to twerk and had concerns that children we being encouraged to direct message Mama G on social media.
A spokesperson for Libraries Unlimited said: "Storytimes and bounce and rhyme sessions are some of our most popular events across the county, with thousands of children attending each year. We host a variety of themed storytimes and they are always a huge success.
"As a charity, we are committed to ensuring our libraries are welcoming, safe and inclusive places for all. We celebrate the arts, equality and diversity and are proud that our libraries offer a space for communities to come together and enjoy the power of words, reading and storytelling.
"At Libraries Unlimited we take our safeguarding responsibilities very seriously and have a safeguarding policy that is followed by all staff across the organisation. In this case, we can also confirm that the artist involved has a Disclosure and Barring Service (DBS) check.
"Libraries are open to all, and we hope that everyone will find something suitable for them amongst our diverse range of activity across Devon and Torbay."
Mama G is back in Devon this week. Combining panto, drag and the traditional art of story-telling: Mama G will be sharing tales that celebrate being who you are & loving who you want. Wed 7th @BarnstapleLibr & Thu 8th @BidefordLibrary pic.twitter.com/LdRVQelm6U

— Devon Libraries (@DevonLibraries) August 6, 2019