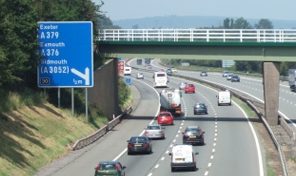 The protest will reportedly get underway at rush hour
Disruption is expected from rush hour this evening as a group of Pro-Brexit demonstrators hold a 'Brexit blockade' on the M5 around Exeter.
The "go slow" protest, organised by the Brexit Direct Action group, is part of a number of motorway blockades expected to take place across the country.
There are reports that the demonstration will begin at junction 30 for Sandy Park, with the group moving at just 40mph before reaching junction 27 for Tiverton Parkway, where they will turn around and do the same on the southbound carriageway to Exeter.
A police spokesperson said: "We are aware of this matter currently being discussed on social media, and will continue to monitor before deciding what, if any action will need to be taken.
"Devon & Cornwall Police have been liaising with Highways England who are responsible for keeping our road network moving, and other relevant partners.
"We will deal with any unlawful obstruction or other motoring offences if they become apparent."
Earlier this week, the Exeter Labour MP Ben Bradshaw said the demonstrators were directing their anger at the wrong people.
"If people are unhappy about Mrs May's decision to delay Brexit, and this government's shambolic handling of the crisis, they should be protesting outside of Downing Street, not threatening to cause misery to thousands of ordinary people in Devon."