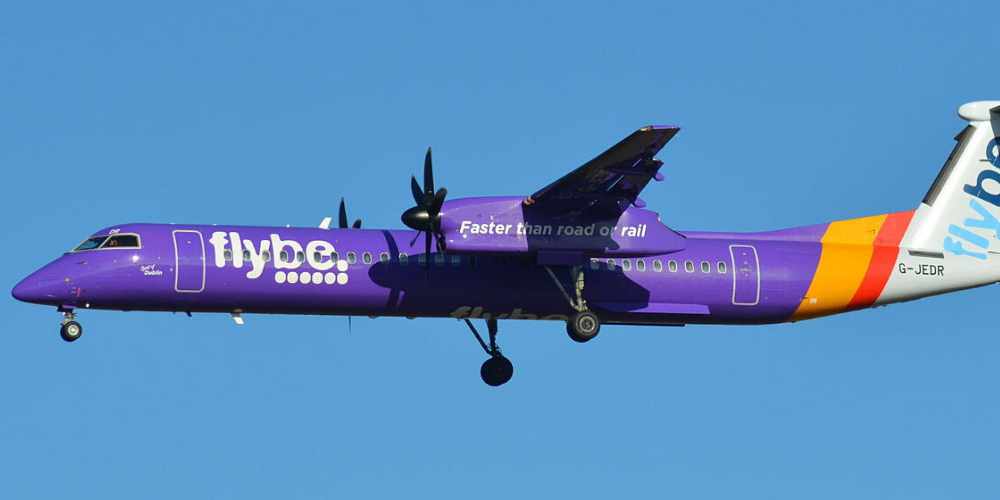 The company has ceased trading with all flights grounded in the UK
Flybe has told its customers not to travel to the airport, after it went into administration with all flights grounded.
In a statement, on its website, it says: "If you are due to fly with Flybe, please DO NOT TRAVEL TO THE AIRPORT unless you have arranged an alternative flight with another airline. Please note that Flybe is unfortunately not able to arrange alternative flights for passengers.
"If you have a booking sold by another airline that includes travel on a Flybe flight, please contact the relevant airline or travel agent to confirm if there is any impact to your travel plans.
"Customers are also advised to monitor the Civil Aviation Authority website for further information (www.caa.co.uk).
"If you require any further information or assistance, please contact the Administrators by phone on 0207 951 7801 or by email at flybeadministration@uk.ey.com.
It is just weeks after a rescue deal saved Flybe from going bust, but the Chief Executive has sent an email to staff saying the virus outbreak 'put additional pressure on an already difficult situation'.
A government spokesperson said: "The vast majority of Flybe routes are served by different transport options, and we have asked bus and train operators to accept Flybe tickets and other airlines to offer reduced rescue fares to ensure passengers can make their journeys as smoothly as possible.
"We know this will be a worrying time for Flybe staff and our Jobcentre Plus Rapid Response Service stands ready to help them find a new job as soon as possible.
"We are working closely with industry to minimise any disruption to routes operated by Flybe, including by looking urgently at how routes not already covered by other airlines can be re-established by the industry.
Exeter MP Ben Bradshaw said on Twitter that it was a "devastating day for Flybe staff, uncertainty for passengers & a big blow to our local & regional economy", and questioned the government.
1/ A devastating day for @flybe staff, uncertainty for passengers & a big blow to our local & regional economy. #flybecollapse. Why did the Government say #flybe was vital to regional connectivity last month & promise to reform Air Passenger Duty in next week's budget....

— Ben Bradshaw (@BenPBradshaw) March 5, 2020
2/ to apparently break that promise, which was the last straw for the company. Johnson's mantra of "levelling up" our left behind regions lies in tatters. Lost connectivity & the future of many regional airlines at risk.

— Ben Bradshaw (@BenPBradshaw) March 5, 2020
Meanwhile, East Devon MP Simon Jupp said: "It is essential other operators now come forward to take over routes from Exeter Airport to secure jobs and lifeline transport links for our region."
My thoughts are with the hard-working Flybe staff at Exeter Airport at this difficult time. I will do everything possible to support them. The govt offered to help secure the future of the airline and I'm deeply disappointed by the decision taken by Flybe's shareholders. (1/2)

— Simon Jupp MP (@simonjamesjupp) March 4, 2020
If you are affected by Flybe's collapse, email news[at]radioexe.co.uk or call our newsdesk on 01392 829170.