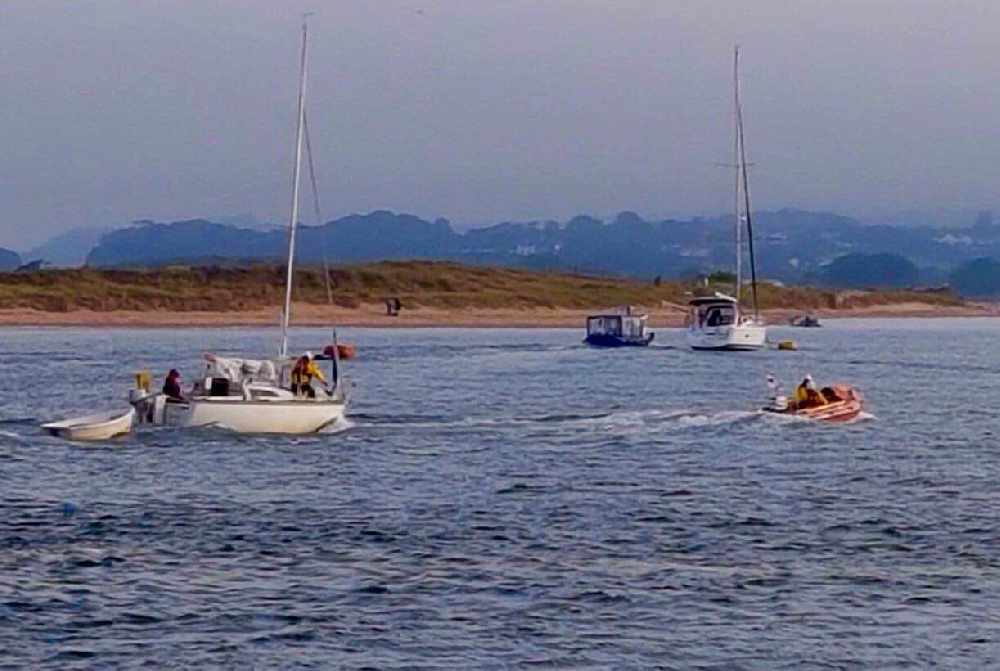 Exmouth's inshore lifeboat tows a yacht to safety in the Exe (Credit: Jude Latta on board Stuart Line Cruises)
Second vessel suffers engine failure
Three people have been rescued in the Exe in two separate incidents over the weekend, both involving mechanical failure.
Exmouth's inshore lifeboat George Bearman laaunched just before 7pm on Saturday to help a small yacht with one person on board, near No 6 Buoy in the Exe Swashway. RNLI crews made it to the vessel within five minutes and found it attempting to make way in the light wind. They towed it to its mooring at Starcross.
Helm Scott Ranft says: "We received a report that the yacht was 'spinning out of control' - his mainsail had been raised and he was sailing up the channel when we arrived. He had very light winds behind him and the tide was starting to ebb, so it would have proved difficult to maintain headway in the river, to his mooring. As a result, he accepted a tow."
In the early hours of Sunday morning the larger lifeboat R and J Welburn rushed to help a 34-fott Rival yacht located half a mile south of the entrance to the River Exe. The yacht had suffered a complete mechanical failure and although the skipper had eventually managed to re-start the engine, it wasn't making way. The yacht, which was on its way from Cherbourg with two people on board, was towed to its mooring approximately 200m north of the River Exe Café.
Coxswain, Steve Hockings-Thompson says: "The tide was starting to ebb strongly, which kept the yacht hooked on the line of pot buoys. If he had been able to free himself and remove the lines from around his propeller, his engine would not have worked. The line detached when we started towing but there was still some around the propeller, so we towed the casualties to safety."