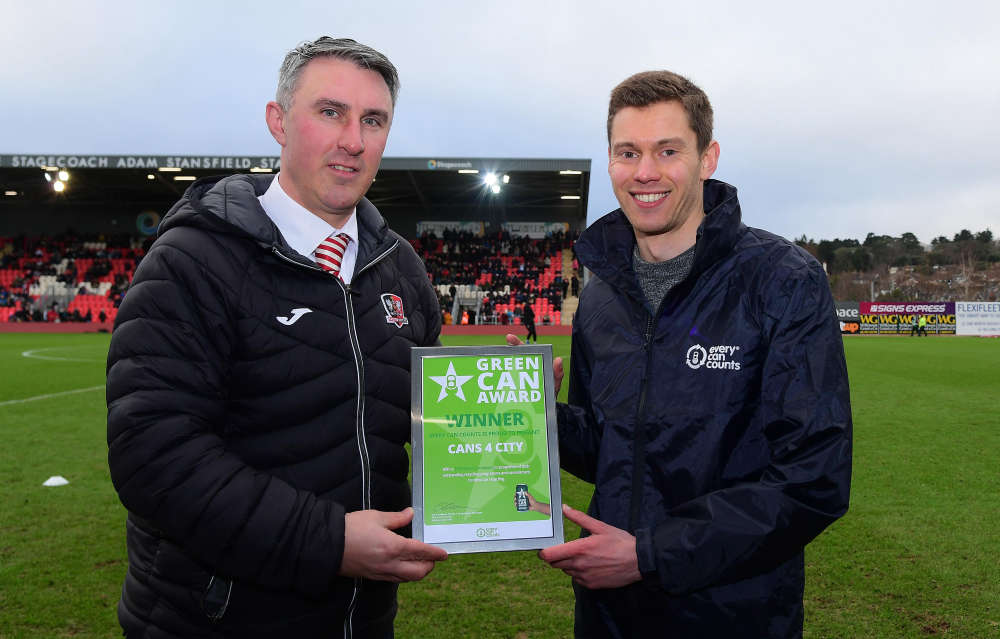 Green CAN Award (courtesy: Every Can Counts)
Seven tonnes of aluminium collected since 2020
Exeter City Council and Exeter City Football Club (ECFC) have won a national recycling award for their innovative scheme, Cans 4 City, and encourages Exeter football fans to recycle used drink cans while also raising money for charity.
The team behind Cans 4 City were presented with a Green Can Award by not-for-profit Every Can Counts in recognition of their outstanding recycling efforts.  
The prize-giving took place during half-time in Saturday's match against Hartlepool United, with over 5000 fans in attendance.  
Since 2020, the initiative has collected nearly seven tonnes of aluminium packaging to raise more than £6,000 for projects and initiatives run both by the club and its partner charity, Exeter City Community Trust (ECCT). In recent years, donations have been put towards Exeter City Community Trust's Supported Housing project, a mental health programme for ECFC Academy, ECFC's Women's Team and a number of improvements to St- James Park and its Memorial Garden. 
Working in conjunction with the council's waste management department, Cans 4 City now runs upwards of 20 aluminium recycling points in Exeter and throughout Devon, including many on ECFC's grounds, and has recruited over 100 volunteers. 
As well as collecting aluminium donations from designated drop-off points, Cans 4 City raises money by partnering with community litter picks and beach cleans across Devon and Cornwall.
Matt Hulland, resource recovery manager for Exeter City Council, who helped set up the initiative at the club, said: "We're so glad that our work is being celebrated with this national award. Cans 4 City has achieved so much already, thanks to our amazing volunteers and the club's fans too, as they've contributed more than half of the aluminium cans recycled since 2020. 
 
"I really think we've tapped into something clever with this initiative. By unlocking the monetary value of our waste, we've succeeding in helping both the planet and our local community." 
 
Cllr David Harvey, Exeter City Council's lead councillor for city management, said: "This is a great initiative, not only helping the environment by preventing cans going to waste unnecessarily, but also helping raise valuable funding for Exeter City Community Trust. I can't speak more highly of the scheme which is fully deserving of its recognition at national level."
 
To find out more information about Every Can Counts, visit www.everycancounts.co.uk.