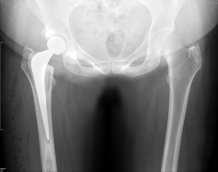 Image: University of Exeter
The prosthetic has been used on nearly 2 million people
The Exeter Hip has been listed as one of the UK's 100 best breakthroughs.

The prosthetic implant is used in 125,000 hip replacements every year and nearly 2 million people around the world have one.

It was designed in 1969 by NHS surgeon Professor Robin Ling and Dr Clive Lee, an engineer at the University of Exeter.
When Robin Ling died in October 2017, the Royal Devon and Exeter Hospital named a ward after him.

Professor John Timperley, one of the surgeons at the Hip Unit in Exeter says "The science behind the Exeter stem and how it works is part of the core teaching for all orthopaedic surgeons around the world. The contribution of these two men to hip replacement surgery cannot be overestimated. The partnership between the University and Exeter Hip Unit continues and recently a post-graduate Robin Ling Lecturer has been appointed to drive further collaborative research between our teams."

Professor Janice Kay, of the University of Exeter, said: "We're very proud of Exeter's role in this revolutionary invention that has improved millions of lives around the world. It's a fantastic example of the global impact of collaboration between the University and our outstanding NHS partners."

The Universities UK list of breakthroughs demonstrates the impact of the research conducted at UK universities.

Professor Dame Janet Beer, President of Universities UK, said: "Universities really do transform lives. The technology we use every day, the medicines that save lives, the teachers who inspire – all come from UK universities and the important work being done by academics. The UK's Best Breakthroughs list is a testament to the difference that universities make to people's lives and we want everyone to join us in celebrating the work they do."