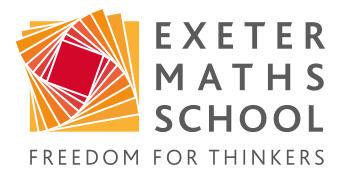 Sunday Times accolade for Queen Street school
A specialist maths school sponsored by the University of Exeter and Exeter College has been crowned the country's top sixth form college by the Sunday Times.
The four-year-old school has 120 students who come from around the south west. Fifty-six per cent of students achieved at least AAB in two or more facilitating subjects in 2017.
Alastair McCall, editor of Parent Power in the Sunday Times, said: Focussed on excellence in subject areas in which there are national shortages, the school is an outstanding option for children in the region. Teachers are passionate about their subject and the tailored intake ensures all pupils are, too. This creates an atmosphere where boundaries of knowledge are pushed and children are intellectually extended as a routine part of the school day."
Exeter Mathematics School is one of only two "free" schools for enthusiastic young mathematicians and scientists in England. The sixth form offers young people in the South West who show potential the chance to study in an exciting and challenging environment.
Headteacher Kerry Burnham said: "Establishing a school in which facilitating STEM subjects are at the core has enabled us to nurture tomorrow's mathematicians, scientists and engineers with a truly innovative curriculum."
Students work with University of Exeter academics and companies such as Dyson and the National Hydrographic Office to complete research into topics such as autonomous flight, artificial gills and neurons. They also complete the Exeter Mathematics Certificate (EMC): a course that enables students to develop research skills whilst exploring a subject of interest. Students study in groups in their first year, completing projects set by industry experts and academics. They achieve the full certificate by completing a piece of individual research in their final year.
John Laramy, Principal and CEO of Exeter College said: "The students and staff, have under Kerry's leadership developed what has quickly become an 'exemplar' for maths focused advanced level study, working seemly in partnership with a University and an Ofsted Outstanding Tertiary College – many congratulations to everyone involved."
Professor Janice Kay, Provost of the University of Exeter, said: "This outstanding news is well-deserved recognition of the excellence of our Exeter Maths School, of which we're all incredibly proud. I'm delighted to see this national acclaim and really excited to see what our graduates go on to achieve."