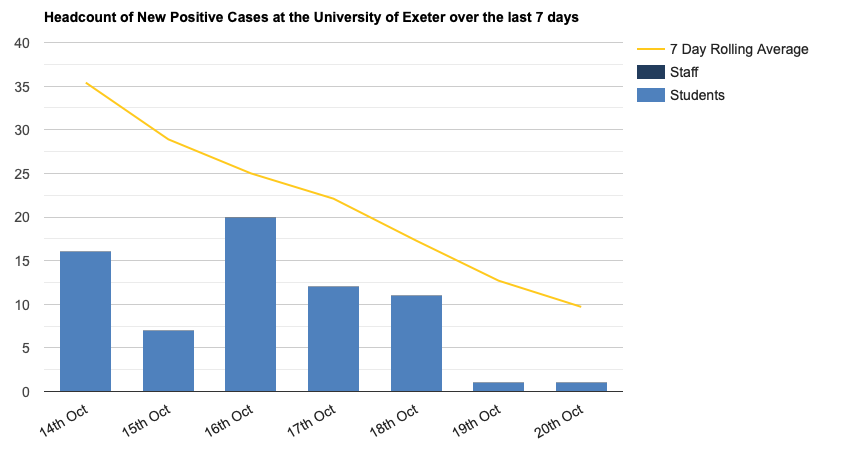 Covid at Exeter University is falling (courtesy: University of Exeter)
Students advised not to mix households though
The number of students and staff at Exeter University contracting covid-19 is falling.
Overall rates across Exeter have dropped by about a third in the past week.
But the university is advising students not to meet indoors with students who are not part of their household. Senior staff say they hope this is the last week they ask for this restriction, which should end on Monday 2 November. Organised outdoor sports are allowed, and the Students' Guild is expecting to allow indoor sports from next week.
In his weekly covid update to students, university registrar Mike Shore-Nye writes: "We know not everyone agrees with the line we are walking but our focus remains to do the very best for our students, staff and the whole community.
As you know from my regular communications over the past few weeks we have been proactively managing a Covid-19 outbreak amongst our students in Exeter and through the actions we have taken together we are now seeing a significant decline in the number of new positive cases. The success so far has been down to comprehensive testing, tracing and people taking the necessary actions. It is vital that we stick to this plan so if you have symptoms then please get a test and isolate for the sake of everyone in our community."
He continues: "However, as I said earlier this week we must not be complacent. We can expect to see further spikes and challenges and the best thing we can all do is take personal and collective responsibility for preventing the spread of the virus. We have done well to prevent the transmission of Covid-19 in teaching spaces and this week we have produced a video as a reminder of the core safety measures..... The best option is to stay at the university this term. If you can avoid travelling to areas that are at higher risk levels than Devon and Cornwall then again that will help prevent the spread of covid-19 in our local communities. Bringing the number of Covid-19 cases down to very low levels is in our gift and the rewards and additional freedoms can be great, including more teaching on campus in November and December as well as social activities.