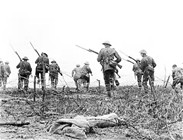 The poignant memorial will be dedicated to the thousands of soldiers who died in one of the bloodiest battles of the First World War.
19,240 small figures will be laid out in Northernhay Gardens - one for every soldier killed on the first day of the Battle of the Somme.
It will be unveiled exactly 100 years afterwards, on July 16th next year.