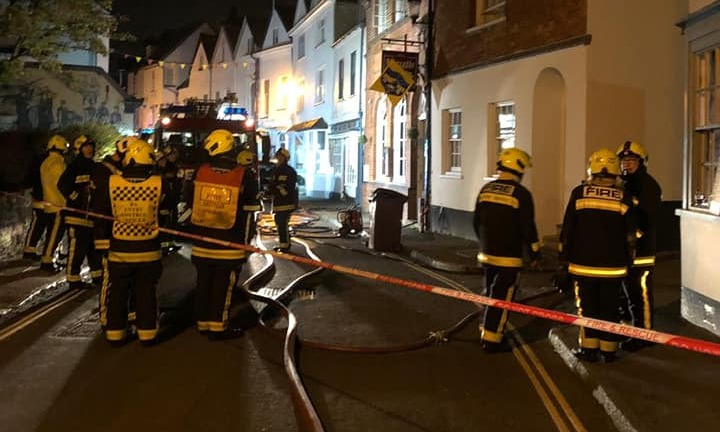 Images: Exmouth Fire Station, Facebook
Marcello says it won't be trading for "sometime"
6 fire engines from across Exeter and East Devon have been tackling a blaze at an Italian restaurant on Fore Street, Topsham this morning (Wednesday 11th September).
They received multiple 999 calls at around 2am reporting the fire, involving a flat roof.
Crews from across Exeter and Exmouth were sent to the scene, with back up from stations in Mid and East Devon.
The incident was scaled back just before 6.30am when a pump was being used to remove 18 inches of water from the basement of the 3 storey property.
Fire control gave final details of the incident at around 7am, saying 90% of the building was damaged by fire and smoke.
In a post on Facebook, the restaurant said: "We come with very sad news. Marcello has had a fire last night and unfortunately won't be able to carry on trading for sometimes now. We would like to thanks everyone who supported us for the past 11 years and will keep you updated."
Crews from Exmouth thanked the nearby Globe on Facebook for the coffee and bacon sandwiches after what they described as "a long night"