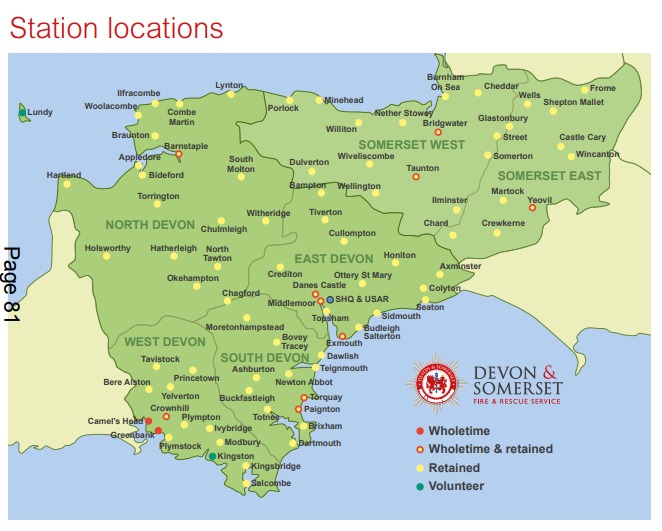 Location of the current 85 fire stations in Devon and Somerset
Changes are afoot for the Devon and Somerset Fire & Rescue Service
Fire stations may be "realigned" to fit availability with risk, according to a new plan by Devon and Somerset Fire and Rescue.
The location of the current 85 bases was designed in the 1940s, according to population centres and risks then. Now the service is looking again to decide if any should close, and whether new fire stations need to be built.
Three new towns, Cranbrook in East Devon, Sherford near Plymouth and Taunton Garden Town in Somerset need to be considered. Other areas have fire stations, but not much work. About 80 per cent of stations attend fewer than two incidents a week on average, and half less than one.
The new 'change and improvement programme' adopted by the service calls for smaller vehicles to handle both rural and urban challenges, so they'll be reviewing their fleet. And they also want new breathing apparatus, better communications and improved use of digital technologies.
They've identified four priorities:
put prevention and protection activity at the heart of what the Service does to reduce preventable emergencies
focus Service response activity firmly on its statutory functions, namely responding to fires and road traffic collisions
make sure that the Service identifies and addresses all risks in the community, with more resources located where risk is greatest
make sure that the Service is an agile organisation, able and motivated to learn and improve
make sure the Service gets the best value from its resources in the face of a shrinking budget.
Chief Fire Officer Glenn Askew says: "Our primary role will continue to be to reduce deaths and injuries from fires and road traffic collisions. We try to prevent these incidents from happening in the first place through education but will respond to emergencies when they happen.
"However, we are moving away from a one-size-fits-all approach that historically has seen us respond to emergencies in the same way at every fire station, regardless of the different risks in each area. We need to look at the way we operate to make sure we have the right people and equipment in the right places at the right time."