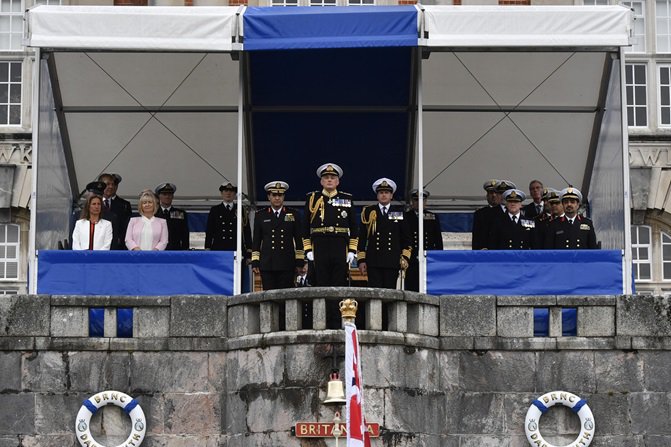 First Sea Lord Admiral Sir Philip Jones takes the salute at Britannia Royal Naval College (courtesy: Royal Navy)
Royal Navy chief back 40 years after he graduated
Admiral Sir Philip Jones KCB ADC, First Sea Lord, Chief of the Naval Staff has taken the salute at Britannia Royal Naval College (BRNC), four decades after his own graduation. He saw nearly 150 new Royal Naval officers, including 16 promoted from the ranks, pass out at the Dartmouth base on Friday. Also taking part in the parade were 18 international cadets from 13 countries and 11 new officers for the Royal Fleet Auxiliary service.
During the training, they took part in exercises on Dartmoor, on the River Dart and at sea on board an operational warship.
Admiral Jones is a Falklands veteran where he served on amphibious assault ship HMS Fearless. He told guests :"As they take their place in the Fleet and join in our efforts to uphold international law upon the seas, defend our national interests and promote our country's prosperity, these latest additions to our Officer corps now share in the responsibility of leadership to make sure the Royal Navy retains its place as one of the very best navies in the world."
Among the graduates is 22-year-old Midshipman Jack Passmore from Willand, who will be a Royal Navy pilot. He says: "Completing the basic leadership development phase of training on Dartmoor in the winter storms of February was one of the highlights of the course. The physical aspect makes up a large majority of training, but has arguably been the most rewarding. The people you join with are certainly what get you through the course."
Sub Lieutenant (SLt) Howard Peplow, aged 38, from Newton Abbot is one of the newly commissioned officers promoted from the ranks. He originally joined the Royal Navy as an operator mechanic and later transferred to become a physical training instructor. He says: "Passing out of the College was a proud moment and a boyhood dream of mine."