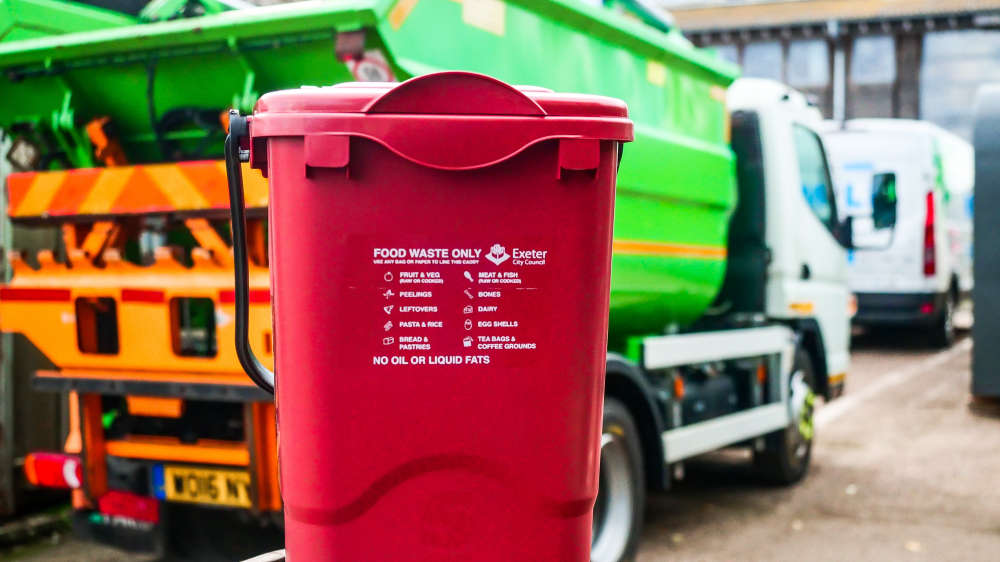 It begins next month
A long-awaited food collection service is starting in Exeter next month with a pilot in one area of the city.
1,300 households in Alphington will be the first to have the weekly service added to their waste and recycling collections commencing on Thursday 4 November. The city council will then introduce the service "gradually" across the whole of Exeter.
Announcing the news, the council said: "Other areas will be added to the roll-out as and when vehicles, drivers and containers are available, and this will be dependent on the supply chain which is currently an issue across the UK."
Eligible households in Alphington – those who have their bins empties on Thursdays – will receive letters explaining the scheme. Weekly collections will take place alongside the existing household waste and recycling (black and green bins) schedule.
Food waste collection begins just weeks after recycling statistics for Devon revealed just 27.8 per cent of waste was recycled in Exeter in 2020/21. Although it's a slight increase on the previous year, it is less than half of neighbouring East Devon.
Plans for kerbside collections for glass and food waste were first announced two years ago. But while food collection is now being slowly introduced, plans for a kerbside glass collection service are on hold indefinitely – the ruling Labour group blaming both the pandemic and setbacks in buying electric vehicles to operate the service.
Speaking in July, Councillor David Harvey (Labour, Pinhoe), portfolio holder for city management, claimed glass collections would follow the full rollout of the food waste service. Following this announcement he said: "It's great to be finally rolling this out across the city.
"We will be doing this in a phased manner and extending the rollout as and when we have the vehicles, drivers and containers available.
"At the moment we are having difficulties with the supply chain. We currently have one vehicle ready for the start of the rollout and another coming in mid-November. Others will then need to follow.
"So our message is 'please be patient with us – it's great to be finally up and running but this will take time as it is a big undertaking for the whole of the city – and we will be in touch about when your street is about to be added to the rollout."
The council says once collected, food waste is sent to be turned into soil improver whilst also generating energy. Each eligible household in Alphington will receive a red 23-litre kerbside food-waste caddy and a five-litre grey kitchen caddy.
Reacting to the news, opposition leader Councillor Andrew Leadbetter (Conservative, Topsham) said: "It has been a Conservative manifesto pledge for many years now that we need to improve recycling in Exeter because it has the lowest rates in Devon, so I'm delighted to see that eventually the city council is getting on with ramping up its recycling in the city.
"I know it's a trial, but let's hope the trial works well, it is quickly rolled out to the rest of the city and it's followed up by other types of recycling such as glass."
Councillor Diana Moore (Green, St Davids), co-leader of the Progressive Group, said: "Alphington residents live under the incinerator's shadow, where food waste currently goes up in smoke, so I'm sure they'll be delighted to see this doorstep food waste collection service which will divert it elsewhere.
But she added her group, which includes the Lib Dems and an Independent, is "very concerned the Labour administration have picked a 'low hanging fruit' collection route and there's no clear plans for handling the challenging central areas of the city with many flats, houses in multiple occupation, high numbers of communal bin stores and difficult to access streets."
Councillor Kevin Mitchell (Lib Dem, Duryard and St James) added: "After all the Labour administration's dither, we welcome the start of this roll out of the long-delayed doorstep food waste collection.
"This month Portsmouth Council rolled out their food waste collections to an additional 25,000 homes proving it can be done. We need similar committed action here."