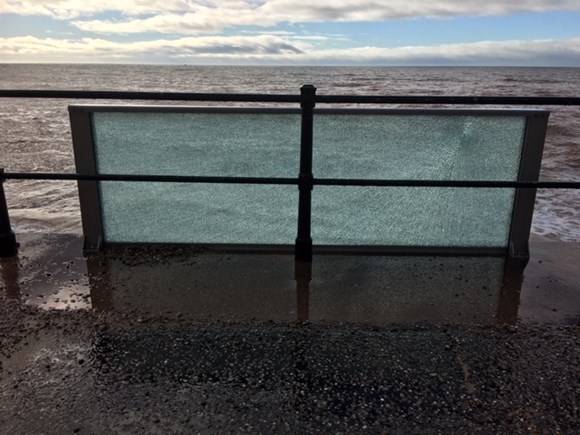 Protecting Sidmouth from waves, but not vandals
Sidmouth seafront protector attacked
Glass panel being trialled by East Devon District Council as part of the Sidmouth and East Beach Management Scheme has been smashed by vandals.
At some point on Tuesday night, the glass splash panel being trialling on Sidmouth esplanade, as part of the beach management scheme, was smashed on the landward side.
The weather was unsettled that night, but the StreetScene team says that's not caused the damage. The sea-facing side of the panel is still intact, meaning "deliberate criminal damage has clearly been inflicted on the glass's landward facing surface – possibly with a hammer or similar heavy instrument.
The panel has weathered the impact of three major storms since being installed in February. The council though says it has "succumbed to this malicious and destructive act.
Sadly, this is not the first time that someone has vandalised the panel - three chips on its landward side had been spotted recently, which are not consistent with shingle impact marks.
This new act of vandalism has implications for the installation of a glass panel along the entire seafront to help protect Sidmouth from coastal flooding. If a glass panel is going to be subject to repeated damage by vandals, then it will not be sustainable."
Commenting on the damage, Cllr Geoff Jung, portfolio holder for the environment at East Devon, says: "The vandalism of the panel now casts doubt on its use in the final scheme.
Ward member Cllr Denise Bickley says: "Potentially having to withdraw this idea due to vandalism is such a pity and unfortunately will say something about the town rather than about the glass itself. I sincerely hope the CCTV footage can identify the perpetrators of this act and we should all call it what it was - criminal damage to property, and not something to be bragged about. We should also remember that any type of wall of or sea defence could be damaged by vandalism, whatever it was constructed from."