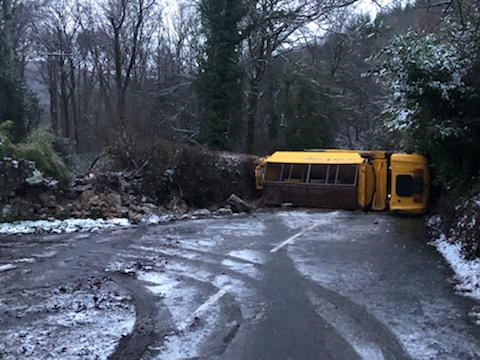 Conditions could get worse
Snow showers and freezing conditions swept across Devon in the early hours of Sunday morning and more is to come. Overnight a Devon County Council gritter over-turned near Holne on Dartmoor, highlighting the treacherous conditions. The driver was shaken by the incident but was unharmed. The vehicle has been recovered and the road re-opened.
Road surface temperatures could drop to as low as -8C across Devon overnight on Sunday, making conditions hazardous on Monday morning, and there is a severe risk of ice on untreated roads.
The county's army of around 325 snow warden volunteers were alerted by the County Council ahead of the forecast snow fall, and many of them have been putting their local plans into operation.
Councillor Stuart Hughes, Devon County Council cabinet member for highway nanagement, said: "I would urge everyone to please avoid travel unless absolutely essential; do not travel to find snow, and stick to the covid-19 guidance to stay close to home. The incident with one of our gritters shows how hazardous conditions can be for everyone, and it's a reminder of the selfless efforts put in by gritting teams to keep the rest of us safe. Our thanks go to them and also to our snow warden volunteers who have been out treating their community's priority routes.
The County Council is reminding people of the following advice:
Take extreme care if travelling on Monday morning – there is significant risk from widespread ice;
Avoid overnight travel unless absolutely essential as roads will always be more hazardous at night with less traffic and colder temperatures;
Never assume a road has been salted. Remember that showers or rain will wash salt off roads leaving them prone to ice, and in extreme cold even salting will not stop ice from forming;
Allow additional time for your journey;
Reduce your speed and leave more space between you and the vehicle in front.