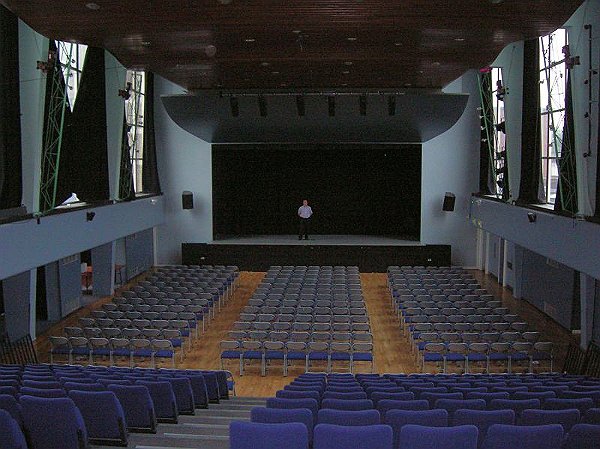 Exeter Corn Exchange remains as a city centre performance venue (courtesy: Exeter City Council)
Campaign group closes company
A group of campaigners hoping to see a new city centre theatre in Exeter has called it a day - at least as a formal organisation.
The Theatre for Exeter Group is closing and returning its remaining funds - £129 - to city youth company Cygnet Theatre.
Exeter hasn't had a mainstream city centre theatre since the victorian Theatre Royal on the corner of Longbrook Street and New North Road closed in 1962. The city's main subsidised theatre, the Northcott, is on the Exeter University campus. The Barnfield Theatre hosts amateur dramatics and smaller touring shows, whilst experimental space the Bike Shed on Fore Street closed two years ago. Exeter City Council-owned Corn Exchange receives touring shows too as does Exeter Phoenix which has a performance space.
Nascent plans had been forming, at least conceptually, by Exeter City Council, for a new theatre on the site of the Corn Exchange. Proposals for the redevelopment of Paris Street and Sidwell Street also include provision for a "possible performance venue."
However, the pandemic has almost certainly killed that idea, as the Theatre for Exeter group admits. In a statement, their spokesperson Peter Goodwin says: "The pandemic has (and will continue to) cost national and local government vast amounts of money making it unlikely that a new venue in our city will be at the top of the list for investment any time soon.
"So now is probably not the time to be pushing hard for a new theatre which is what the Theatre for Exeter Group is set up to do.
"For this reason, and because we have to pay to remain as a community interest company, The Theatre for Exeter Group has decided to dissolve its company status at Companies House and continue as an unregistered voluntary group. We aren't going away completely; we will remain dormant until the situation improves and the 'green shoots of recovery' begin to show with the possibility that the plans for a new venue can be looked at again. When this happens, we intend to be there - pushing for it to happen."
Following a complaint from Exeter''s Northcott Theatre that this article was being interpreted by readers as announcing the closure of the Northcott, this article amended to remove a photo of that theatre.