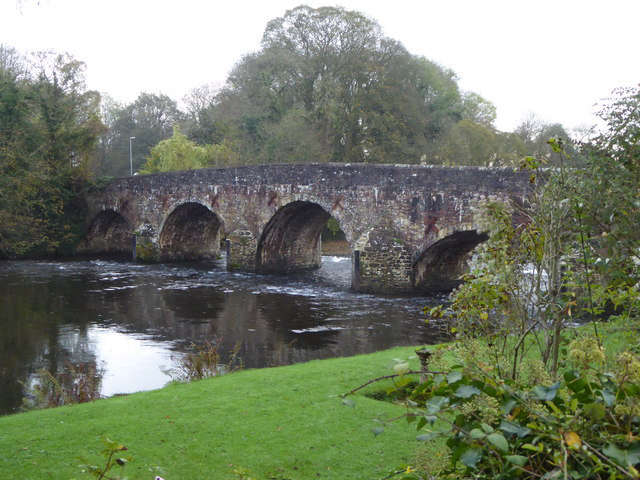 Bickleigh Bridge (courtesy: LDRS)
It's regularly damaged
Councillors have discussed potential improvements to Bickleigh Bridge near Tiverton after a series of closures and repairs in recent years.
It follows a lorry crash in May, which severely damaged the historic bridge and led to its closure for two weeks. The driver misjudged the approach and crashed into the side, leaving it hanging precariously off the edge.
The bridge, largely rebuilt in 1809 after flood damage, has racked up a repair bill of £133,000 in the 15 years to August 2020, following a number of vehicle collisions. Most of these costs have been recouped by the authority.
Whenever the bridge closes, drivers must take a lengthy diversion route on the main A396 Tiverton to Exeter road. Debate has been ongoing for years as to how best to protect it without disrupting traffic too badly or spoiling its picturesque setting. Double-height kerb stones were installed on the Tiverton side in April, which the council's chief bridge engineer said helped prevent May's crash from being worse.
On Friday, members of the Mid Devon highways and traffic orders committee were told that whilst driver error was solely to blame for the most recent incident, improved signage and road markings on the approach could help protect the bridge. A survey to find out why drivers use this road is to be undertaken too.
Councillors also asked Tony Matthews, Devon County Council's neighbourhood highway group manager, to report back with more details on other potential improvements, including traffic lights and widening the approach road into the currently closed Trout Inn.
Mr Matthews told the committee the last traffic survey for the bridge was carried out in 2009, which investigated whether signage to encourage HGVs to use the M5 and North Devon link road could be installed. However, it revealed the vast majority of drivers had to use the bridge because they needed access to somewhere along the route.
He added: "But I think as the issue has raised its head again, it might be worth revisiting that survey."
Councillor Margaret Squires (Conservative, Creedy, Taw & Mid Exe), whose ward falls partly on the bridge, said the closures were having knock-on effects.
"I'm not just concerned about the cost to the bridge, because they go on other minor roads and it causes no end of damage to those. As well as that, when that bridge is closed there are a number of businesses that it puts difficulty on. I've had contact from one of those people that represent quite a few business premises and they say 'what are we supposed to do? because it's killing our business every time that bridge is shut'.
Cllr Squires raised the idea of realigning the Tiverton side of the A396 into part of the current Trout Inn, "so it goes out wider to take the bridge.
"The Trout Inn's been for sale for years and I know it's a listed building, but whether it's something that could be looked at, whether there's space there to do anything."
Councillor Frank Letch (Lib Dem, Crediton) thought traffic lights would help. "I just wondered if we had a system of traffic lights so that any driver coming up, particularly the buses swinging right over, almost to the entrance of the Crediton road, to have enough time to miss that. If we could do something like that so they would know, however much they swung that way, there would be nothing coming to oppose them."
However, committee chair Councillor Ray Radford (Conservative, Willand & Uffculme), said: "I personally don't think traffic lights would do a lot of good. Driver error, that's all it is. We can only encourage the lorries to keep a wider berth to approach the bridge."
In response, Tony Matthews said the idea of traffic lights was explored around 20 years ago. "The damage to the bridge caused by large vehicles isn't related to the problem of them encountering another vehicle. All the evidence we have got is that it's just driver error in not making the right manoeuvre approaching it."
Mr Matthews explained the narrow section of road outside The Trout Inn meant that potential lights on the Tiverton side of the bridge would have to go outside the pub's car park. He said this, coupled with the Crediton junction necessitating three-way lights, would mean the queues and delays would be "unacceptable".
He added: "Technically it wouldn't solve the problem. You would get more driver frustration. It has been looked at in quite a lot of detail 20 years ago and has been looked at again more recently."
Councillor Richard Chesterton (Conservative, Tiverton West) thanked the council for re-opening the bridge ahead of schedule and backed exploring traffic lights.
"It's certainly something that has more than one bonus point in that traffic lights themselves just act as a warning".
Discussing May's accident, which happened at night, Cllr Chesterton said traffic lights would have given the driver "the warning that there was something there to be negotiated".
"It wouldn't have, in itself, stopped this from happening, but it might have just changed the mindset coming up to it, who knows?"
Cllr Chesterton added that a number of Tiverton Town councillors had requested traffic lights to be added to a future agenda. He also asked for more details about the "interesting" idea of widening the road by use of the Trout Inn.
Members voted for Mr Matthews to explore options for the bridge in more detail, including improved signage and road markings, widening the road by the Trout Inn and traffic lights. He will report to a future meeting, the next of which is scheduled for October.