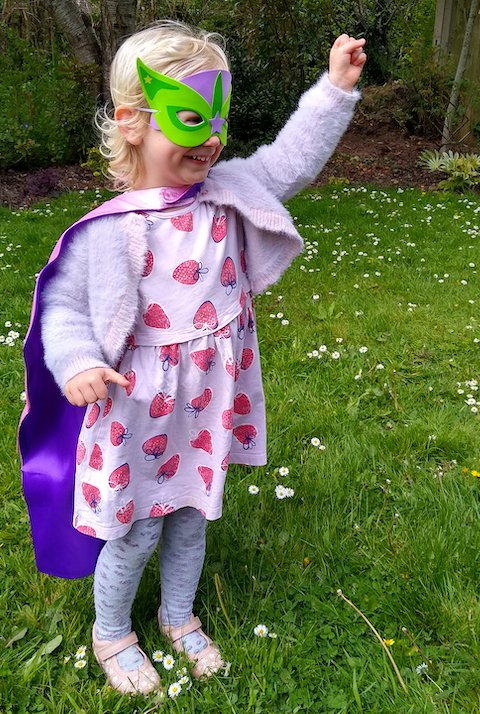 Fantastic Fiona Fundraiser
Fiona, three, in 2.6 Challenge
Meet Fiona Lawrence. At just three years old, she's preparing to take on 10 mammoth tasks (mammoth if you're three and have to do 10 of them) to raise money for Headway Devon, the charity that cares for people living with head injuries.
The 2.6 Challenge starts on Sunday, which should have been the date of the London Marathon. Across the country, people instead will try to raise £67m to help save the UK's charities. The challenges are all linked to the number 2.6 or 26 - approximately the number of miles that participants would have run in the marathon).
Fantastic Fiona will do her 10 challenges over 2.6 days from Sunday, finishing at 2.40pm on Tuesday. She'll be singing 26 songs, finding 26 stones in the garden, reading 26 books, doing 26 minutes of dancing, drawing 26 pictures, catching a ball 26 times, kicking a ball 26 times, doing 26 star jumps, watering plants in the garden for 26 minutes, and painting for 26 minutes.
Her mother works for Headway Devon and Fiona loves doing challenges, so we asked if she wanted to do some for charity and gave her a list of suggestions. She wanted to do so many we had to cap it at 10! The hardest part so far has been trying to get her to wait until Sunday to get started!"
Headway Devon is the local brain injury charity. The people they work with are from all walks of life, but all have survived life changing illnesses and accidents which have left them facing complex disabilities. All Headway clients are classified as being at higher risk of covid-19 because of their pre-existing conditions. Headway Devon keyworkers are continuing to place themselves at risk to ensure that their clients can adhere to government guidelines and stay safe and well at home. Their keyworkers are supporting people to access essential food, medicines and services, and providing vital emotional support to clients and family carers who are bearing a much greater burden of care at this time.
Headway Devon Chief Executive Officer, Ruth Wells, commented: "Over the past weeks I have been humbled by the work and sacrifice of the incredible staff team at Headway Devon and by all our colleagues in social care. I was emotional to hear that Fiona wanted to support us and awed by the number of challenges she has chosen. The money raised will help Headway Devon to continue to meet the needs of our clients and carers and respond to those who may sustain a brain injury whilst fighting COVID-19. Headway Devon is facing financial challenge and this support means the world to us. I'd like to thank Fiona and her training support team and all those who donate to her."
If you think you know someone who has been affected by brain injury and who may benefit from Headway's help, please call 01392 211822, email info@headwaydevon.org.uk or visit www.headwaydevon.org.uk.