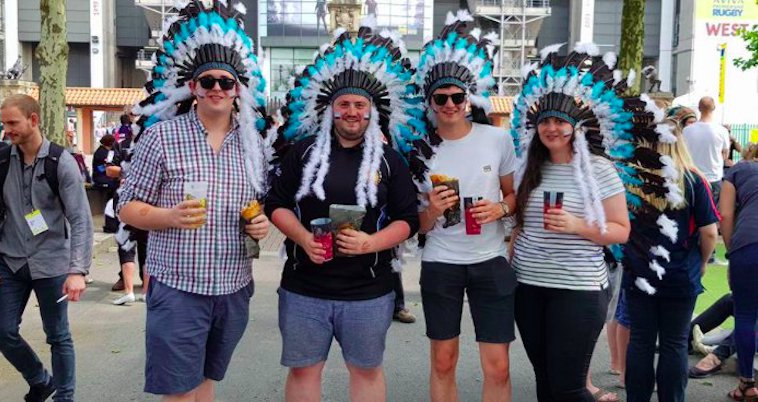 Photo taken from last year's final
Thousands of Exeter Chiefs fans arrive in London for the end of season showdown
At 3pm this afternoon Rob Baxter's Exeter Chiefs, playing in their fourth successive Premiership final, will have to beat European Champions Saracens at Twickenham to lift their second ever Premiership trophy.
However, Saracens' record in major finals of late has been incredible. Since losing the Premiership Final in 2014, they'v won their last six deciders, most recently - lifting the European Cup three weeks ago.
Premiership Rugby's Premiership Player of the year nominee Matt Kvesic knows it's going to be a challenge, but admits his side have a great chance of overcoming the defending champions.
"They're arguably the biggest club in Europe, so it'll be a big task for us to go up to Twickenham and enforce our game on them," he said.
"However, if we can do that, then we'll give ourselves a great chance of winning. Saracens are a great side all over the pitch. They have an impressive all-court game and they have plenty of big game players - I won't list them all because there is too many to count!
"It's going to be physical, it's going to be fast, and the weather is going to be hot too, which will make it even more draining for both sides, but it's going to be a matter of who can stick it out the longest. We have trained like that all year and we back our fitness against anyone, so hopefully we can that again at the weekend."
Radio Exe will be brining you LIVE updates through the afternoon.
Biggest sporting game of the season today, Who comes out on top is the best in England!! Can't wait for the @premrugby final against @Saracens and @ExeterChiefs gonna be a cracker #premiershipfinal

— Robert Marrs (@farmermarrs) June 1, 2019
Huge good luck to the @ExeterChiefs lads today at HQ vs @Saracens should be a cracker of a game. Last person out of Devon remember to switch the light off 💡 #final #TwickenhamRugby #GallagherPremFinal #exeter #saracens #rugby #bringithome #celebrations

— Matt Jess (@mattjess14) June 1, 2019
Sending best wishes & good luck to the mighty @ExeterChiefs for this afternoon's @premrugby final, hope all the supporters have a safe enjoyable trip & an incredible afternoon of rugby, COYC bring it home guys @BigChiefExeter 🏉🏟️🕒🏆@pr pic.twitter.com/c1V7brlDkL

— GarageDoorsSouthWest (@GarageDoorsSW) June 1, 2019