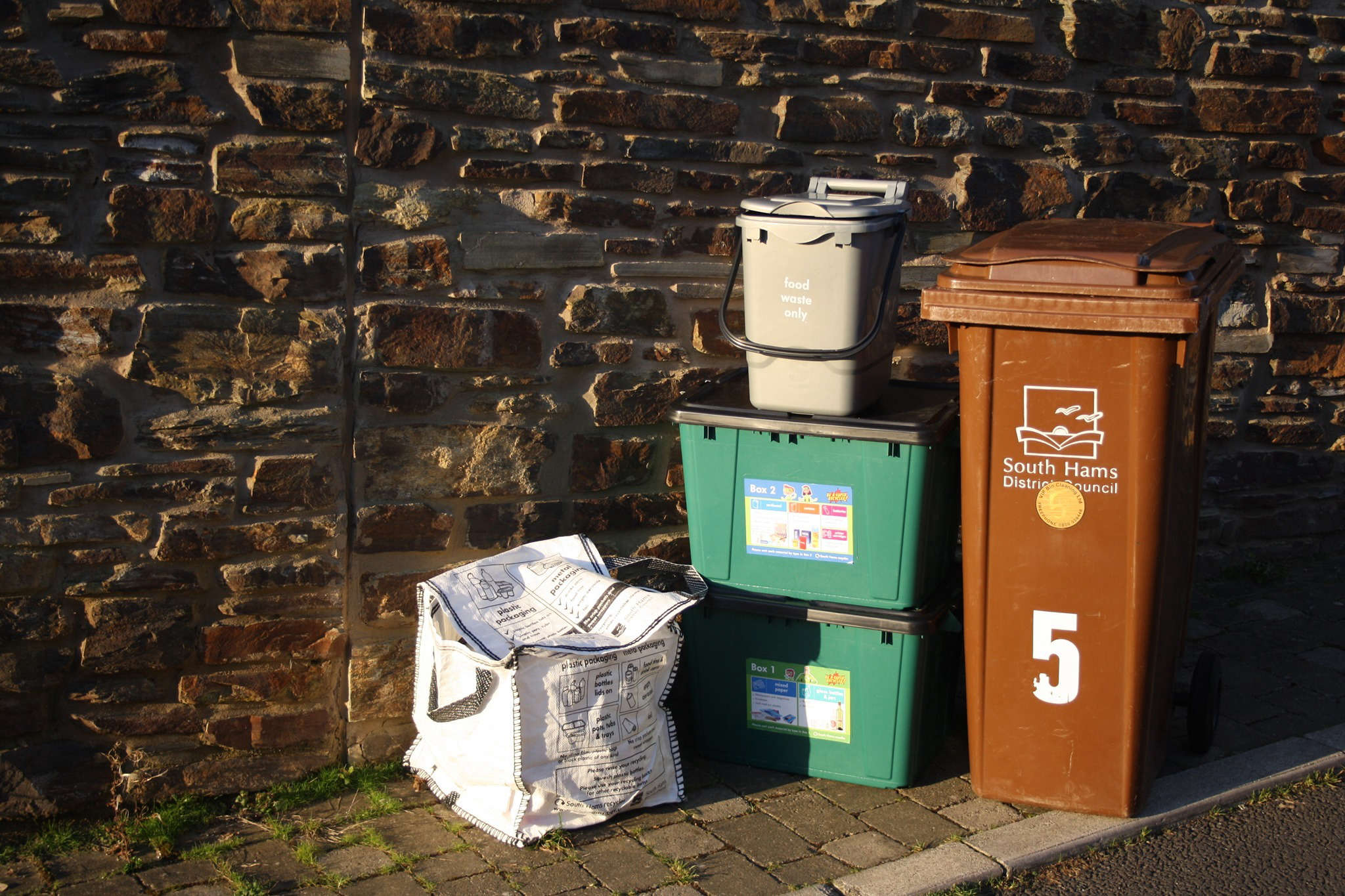 Waste service get people hot under collar
Many reasons are being given to explain why some local authorities are failing to deliver waste collection services effectively.
The list includes a shortage of HGV drivers, failures by private contractor and poor management by council officials.
For people living in the South Hams the issue has caused upset and anger. And some councillors are now demanding its contract with private waste company FCC Environmental is torn up altogether.
A gentle walk through a quiet residential area in Ivybridge reveals some of the concerns being discussed by council taxpayers in the South Hams.
There are bins on the roadside; black bins, brown bins, green bags and white bags. Some are empty, some are brimming over with garden waste or recycling.
Local residents like Rose say it is confusing and chaotic: "It annoys me, the fact that I take the time to sort it out, wash it, everything and then the bin men come along and it all goes in the same one.
"How do they sort that out? They can't! Six months ago it was fine."
Another nearby resident, Karen, agrees and thinks tough action is needed. "I know they're having a lot of troubles at the moment with picking up the green bins, isn't it? They need to sort it properly then, don't they?" she says.
"Because obviously they're getting a wage for not doing what the appropriate job is."
Waste services have been outsourced to FCC Environment since April 2019 but have faced problems from the start with missed collections.
Senior Conservatives such as Cllr Lance Austen (Ivybridge West), who is also vice chairman of South Hams District Council, accepts there are problems but insists they are only recent.
"For the first 18 months, really there were no problems at all. It was absolutely fine, no difficulty at all," he says.
"We looked at changing the method in which the waste was collected in order to make it more environmental and changed the system in which we were collecting it.
"There were a few problems rolling out the new system, but then came the major problem, which was an HGV shortage of drivers and that led to staff shortages all round."
But South Hams Council is determined to get its bin problem sorted. Last month councillors gave FCC an ultimatum to put recycling services back on track by December.
But Lib Dems' councillor Julian Brazil (Stokenham) says enough is enough. He believes waste services shouldn't be in private hands.
"Most councils now are looking to bring the service back in-house because they understand it's one of the most crucial services that the council delivers," he says.
"We need to have direct control over it. And once you start outsourcing it, you pass on that control, which means officers, councillors, members of the public can't directly communicate with the company that is delivering the service."
However, Cllr Austen says he has faith in the contracted out service. "I think FCC are a very competent professional company. They've got a lot of experience. They work on a national basis, they work with about 60 different authorities. And I believe there's a very good chance they will fix it."
One of the latest moves, aimed at taking pressure off the system, is to stop collecting brown bins used for garden waste.
Some keen gardeners are not happy about that. Local resident James was caught off guard by the decision. "They didn't give us any warning that they were going to stop doing it and brown bins were absolutely full," he said.
"Then they missed the odd week and then eventually they just said they're not going to do it by which time you had a brown bin full of actually rotting waste."
And his neighbour, Ashley said bin collections have become a matter of guesswork.
"When they're going to do the brown bins, when they go to the black ones … we just put out what we think and that's about it really."
Cllr Austen insists the latest measures will help sort the crisis out. And taking back control of the service is not up for discussion right now.
"We were lacking skilled staff, we were lacking HGV drivers and that's why we couldn't get a certain part of the service done on a regular basis, which was picking up the garden waste," he says.
"Now that we are no longer picking up garden waste, that should help sort the problem out now.
"There are obviously people who are looking at other options and saying … 'well. … should we be doing this?' and so on. But I haven't seen any proposals I found convincing at this stage."
But Cllr Brazil believes contracting waste services out has a negative impact on everyone – including staff – and draws comparisons with neighbouring Teignbridge which still has an in-house service.
"One of the main problems has been that the terms and conditions offered by FCC have been different from what they had when they were working for South Hams," he says.
"Teignbridge have a very loyal, dedicated workforce. And I'm afraid to say that that isn't the case anymore."
Councillors and residents accept that there are no quick-fixes to the waste management problems.
For South Hams councillors, it may feel like a long wait until FCC's December deadline.
For residents, it could feel even longer.
You can hear about this story on this week's Devon Review podcast: https://bit.ly/3CbKV5m