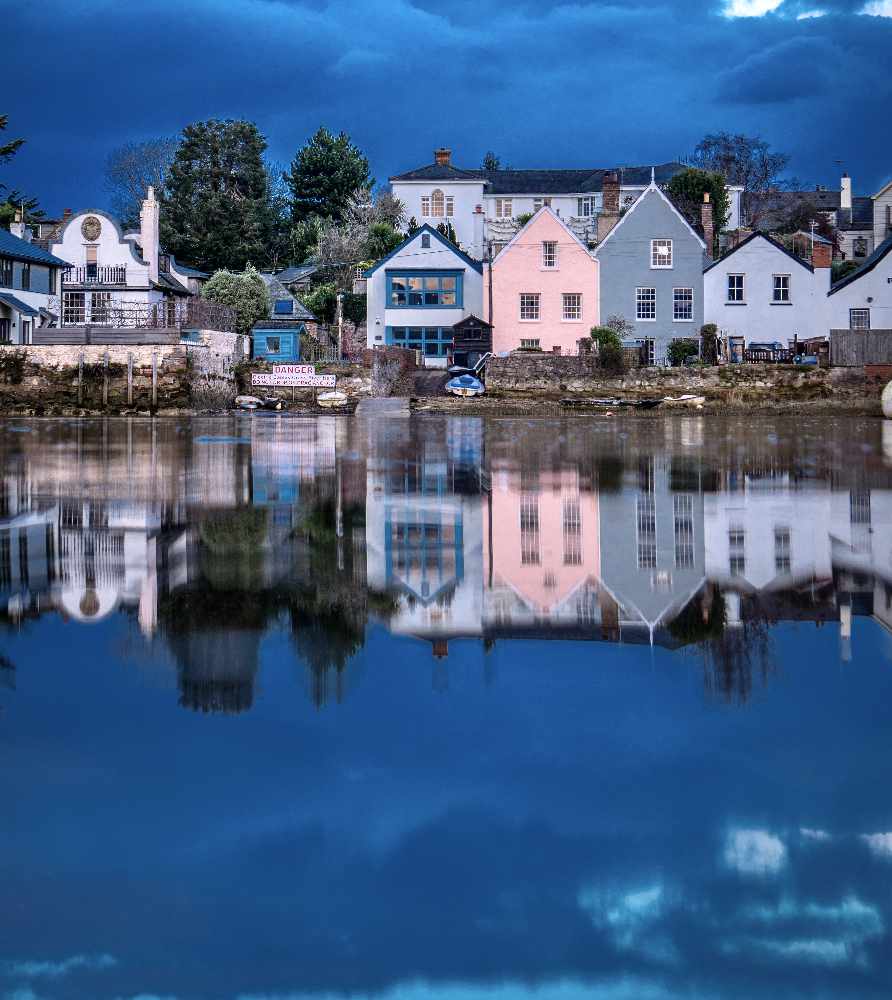 Waterfront at Topsham (courtesy: Love Topsham)
Chagford, Kingsbridge and Topsham make list
Three Devon locations have made it into the Sunday Times' Best Places to Live list.
The prestigious Sunday supplement can do big things for locations included. Helen Davies, The Times and Sunday Times property editor said: "With working from home now common, it's no surprise that many of us are reassessing our priorities and thinking hard about where we really want to live.
"Our focus for this year has been community, countryside and convenience. It hasn't been a year for big cities or small villages. Instead it is small towns that have shone: big enough to have everything you need within walking distance and small enough for everyone to feel connected.
Chagford, Kingsbridge and Topsham are in the southwest section of the Best Places' list. The Sunday Times says of each:
Chagford: "Arty, environmentally minded and hospitable, historic Chagford is the perfect place to immerse yourself in the magical scenery of Dartmoor while keeping conveniently close to Exeter," was the judges' verdict here. Their favourite things include the beautiful outdoor lido (and the campaigners who raised funds to maintain it with an exhausting sponsored swim), and an impressive collection of local shops; greengrocer, newsagent, chemist, superior wine shop, convenience store and a brilliant Delicatessen in Blacks, where nearly everything is home-made. The real star here, though is the Dartmoor landscape: "a bewitching patchwork of craggy tors, steep valleys, pretty villages and ancient thatched cottages."
Average sale price: £365,000
Average rental: £735 pcm

Kingsbridge was the judges' favourite spot in the lovely South Hams. "The down-to-earth neighbour of high-falutin' Dartmouth and Salcombe is just as well placed to enjoy the beautiful coast and countryside, but unlike them it has a year-round sense of community as well as a gem of an independent cinema," they said/ Their other highlights include an appealingly practical town centre with butchers, greengrocers and in H. Luscombe and Son -- a five-generation family business -- a dream of a DIY store, as well as the Trading Post, a long-standing toyshop that went click-and collect during lockdowns and was named the toy industry's independent retailer of the year. Community spirit is strong, with Kingsbridge In Bloom volunteers picking up litter and weeds and dead-heading the hanging baskets.
Average sale price: £262,000
Average rental: £750 pcm

Topsham: "An old favourite on the Exe Estuary, Topsham has a fun independent, community and beautiful houses conveniently close to Exeter," said the judges. They praised the efforts of two volunteer groups: the Estuary League of Friends, a charity, which already runs the town's Post Office and library and co-ordinated Topsham's Covid fightback, and Love Topsham, a voluntary group cheerleading for local businesses and residents, which provided outdoor eating and drinking tables to help during Covid and plans a programme of street musicians over the coming summer.
Average sale price: £485,000
Average rental: £925 pcm
Two prominent local groups were singled out for special mention in Topsham. Estuary League of Friends' chair Marilyn Ramsden told the paper that 170 local people had volunteered to help the charity's staff during the pandemic. She said: "The pandemic arrived and Topsham rallied; neighbours, businesses, charities worked together to help with shopping, meals and loneliness."
Community interest company Love Topsham was also praised for acting as a cheerleader for the town, providing additional outdoor facilities and street music during the past year, and starting work with some cafes to become more eco-friendly.
Love Topsham volunteer Ned Hoste, a graphic designer, says: "It's fantastic news for Topsham to be included in this list. We've always recognised the town as special and this is a ringing endorsement. The residents, business community and groups can be proud of the part they've played."