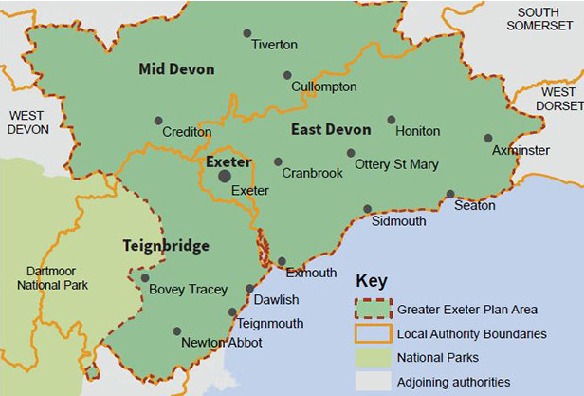 The Greater Exeter area
It would replace Exeter and Cullompton services
Exeter and Cullompton's service stations at junctions 30 and 28 of the M5 could be replaced by a 'super service-station' at Poltimore, in between the two, with the current facilities changed into housing.
That's one of the dramatic proposals in a strategic plan for what's known as the Greater Exeter area. That's the region considered the Exeter travel-to-work area, including East Devon, Teignbridge, Mid Devon and the Exeter city area itself.
It could take 20 years before proposals in the plan are implemented. The Greater Exeter area needs more than 50,000 new homes, being built at an average of 2,663 a year from 2020 onwards. That means new land for housing needs to be found. Some green spaces will be built on, and existing sites could be redeveloped. That's where they've got their eye on the current service stations.
The strategic plan also considers creating a 'second Cranbrook' - a reference to the new town near Exeter Airport, which has sprung up over the past 10 years on rural land. Plans for Cranbrooks' town centre are currently in consultation. The edges of Newton Abbot, Honiton, Feniton, Axminster, Tiverton, Cullompton and Crediton are also primed for new housing.
Other proposals could see a large area of 660 hectares of rolling farmland extending from the A30 to the A3052 across Clyst Honiton, Sowton, Farringdon, Aylesbeare be concreted over to see 10,000 homes built, with a further 1,300 homes allocated around Greendale, with a new link road to connect the A30 and the A3052 provided. The Hill Barton site could also house a regional sports hub, with the Culm Garden Village expansion also having the same possibility.
Newton Abbot could see further expansion of the Houghton Barton site to the west of the town with an additional 1,750 homes, while a further 500 homes could be built on land to the south of the NA3 allocation.
More than 1,000 homes could be built to the east of Honiton, with 540 homes in Axminster, 2,800 homes around Feniton, and 2,500 homes around Whimple. To the north of Exeter, 750 homes in Crediton, 500 homes in Cowley and 1,200 homes in Newton St Cyres are proposed, while to the south, 1,100 homes around Shillingford and 1,500 homes at Peamore could be built.
Redevelopment of land around Marsh Barton, Exeter St Davids, Topsham, Sowton. Pinhoe, and within the city centre allocate around 12,000 new homes within the boundary of Exeter
New rail stations at Marsh Barton, Monkerton, Cullompton, and Cranbrook East are proposed, as would 15 minute bus frequency on the routes on the A3052 to M5 J30, Heavitree Road, the A379 South West Exeter and around. Exe Bridges / Alphington Road.
Park-and-ride sites will be allocated around Exeter, with one on the Pinhoe Road B3181, Heavitree Road, Clyst St Mary, A379 Matford, A377/A30 Alphington Road and A377 Cowley Bridge corridors planned.
Land will be safeguarded for improvements around the junctions J27 and J28 of the M5, enhancements of local routes to improved capacity and resilience between M5 J29 to M5 J31, and the relocation of M5 J30 and J28 motorway services to one new "on-line" site.
A30/A303 improvements between Honiton and Marsh are called for, while a new link road between the A30 at Clyst Honiton and the A3052 could be built to allow movement without the need to use the motorway junctions.
A comprehensive pedestrian and cycle network within Exeter is also proposed, with City Centre streets, including South Street, Fore Street, Paris Street, Queen Street, Heavitree Road and Cowick Street to have more priority given to active travel over the car.
A comprehensive pedestrian and cycle network within identified towns, including in Newton Abbot, Cranbrook, Crediton, Cullompton, Dawlish, Exmouth, Honiton, Teignmouth, Tiverton and the GESP allocations, will come forward at a later date.
Each council will be holding meetings to ask councillors to agree to the 'draft policies and site options' document and that a public consultation should begin in September. Exeter City Council will be first to decide at its Executive meeting on 7 July. Teignbridge's Executive will consider the proposals and decide on 21 July followed by East Devon on 23 July and Mid-Devon on 6 August.