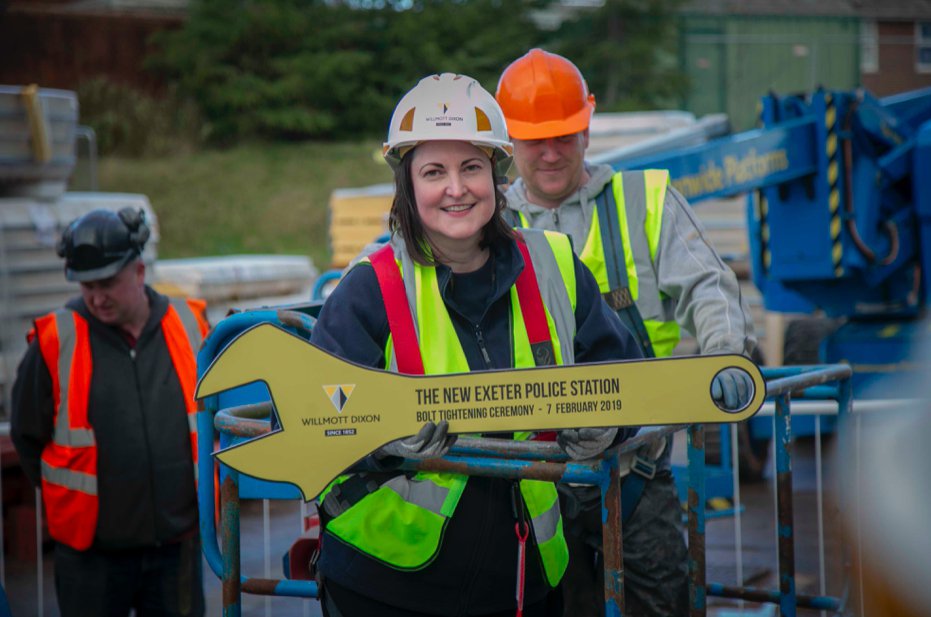 The 'state-of-the-art' structure will provide a bass for 450 officers
Exeter's new £29m police station reached its milestone this week when Chief Constable Shaun Sawyer and Police and Crime Commissioner Alison Hernandez bolted the last piece of steelwork into the fast-growing structure.
When completed the new building will provide a base for up to 450 officers whose duties range from community policing to major crime investigation.
A state-of-the-art custody suite will provide 40 police cells and there will be a new and improved public front desk.
"Making sure our police officers have the best facilities to keep our communities safe is a key element of my Police and Crime Plan," said Ms Hernandez.
"I am absolutely committed to improving officer welfare and we remain on target to deliver new facilities at Middlemoor in the middle part of next year.
Exeter's police commander, Chief Superintendent Sam de Reya, added: "I am delighted to see our new modern purposely-built police station taking shape. This building will support our people to deliver front line policing services to the public across Exeter, east and mid Devon and beyond.
"We have taken our first steps towards a new way of working by relocating our Exeter neighbourhood team to new offices in to the heart of Exeter City and into the Civic Centre.
"Our people do a difficult and complex job and deserve to have a positive working environment which supports them to do their best."