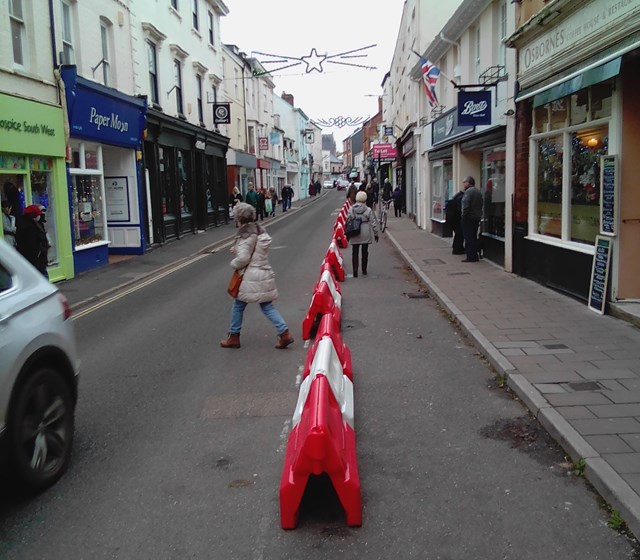 Restrictions in Sidmouth (courtesy: Devon County Council)
On yer bike!
Measures to support walking and cycling have been introduced or proposed in Devon as part of the second phase of Emergency Active Travel Funding projects.
The county's been given nearly £1.3 million from the Department for Transport to provide safer routes for pedestrians and cyclists following the reduction of public transport capacity because of social distancing.
A new pedestrian and cycle crossing has been installed at Countess Wear roundabout, and a new crossing has also been completed at Russell Way to extend the E9 cycle route onto Sowton and Digby. Measures to make the other sections of the cross city E9 route are progressing. A decision to remove through traffic on Ludwell Lane was agreed by a council committee last October, and consultation on next steps for the other temporary changes on the E9 route will be undertaken over the next few months.
Proposals for two new crossings on the east-west shared-use corridor in Newton Abbot have also been approved, as well as improvements to the shared-use provision on Jetty Marsh Road.
In Barnstaple, proposals include a new cycle path from Anchorwood to the Tarka Trail which will be delivered alongside a new cycle network crossing improvement within Seven Brethren. Temporary measures, introduced last year to extend the town's pedestrianised centre, will remain in place until further consultation can be undertaken to determine whether it should be made permanent.
Plans are now also being put forward to make current traffic restrictions in Sidmouth permanent. Old Fore Street is proposed to be made a pedestrian zone with access for cyclists, and motor vehicles will only be able to access Church Street, New Street, Chapel Street, Dove Lane and Kings Lane, if they have a permit or if they are loading or unloading. A number of limited waiting bays in the town will be converted to loading bays.
Councillor Stuart Hughes, Devon County Council's cabinet member for highway management, said: "It's great to see excellent progress being made with the Active Travel schemes right across the county. Travel habits have changed over the past year with the ongoing coronavirus pandemic, and by improving our highway network with these schemes it's making it easier for people to make short journeys on foot or by bike. From my own experience in Sidmouth, the Town Council and Chamber of Commerce feel the town centre has been improved by the temporary measures which is why we're now looking to make them permanent."
A public consultation has been carried out in Heavitree and Whipton to gauge people's views on what improvements they'd like to see to make walking and cycling safer. The closure at Balls Farm Road, near Ide, has also been well received in Ide and St Thomas.
Devon introduced a series of "pop-up" measures across the county last year, including in Exeter, Barnstaple, Bideford and Newton Abbot, with initial funding of £338,000 from the Emergency Active Travel Fund. The current funding, which has to be spent or committed by March, is to introduce more permanent changes.