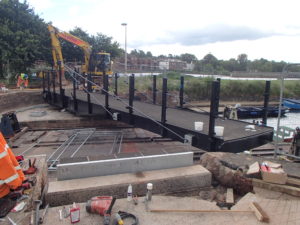 Image: Devon County Council
But nearby path closed until Saturday to allow completion.
The new 15-metre Kings Arms Swing Bridge has been lifted into place.
But to enable the path to be reinstated on either side of the crossing, the paths leading to the pedestrian swing bridge will need to be closed for four days this week.
The path near the bridge is closed from today (Tuesday 25 June) until Saturday (29th June).
Devon County Council says a signed diversion will be in place, advising people to use the route around the Quay using Cricklepit footbridge.
It's expected to open to the public in July, once it's been tested.