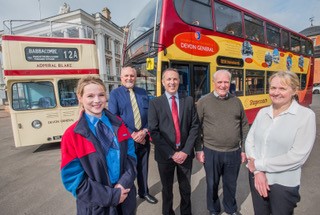 It marks 100 years of bus travel in Devon
In celebration of 100 years, since the Devon General Omnibus & Touring Company Ltd started operations in Exeter, Stagecoach South West has designed a special commemorative livery for one of their buses.
Paul Jenkins of the Devon General Society, said: ''The commemorative bus tells the exciting story of 100 years of bus travel in the region, from Devon General to Stagecoach. When the much loved red and cream Devon General buses first took to the road in 1919, in the days before mass car ownership, many locals and holiday-makers had the opportunity to explore the South Devon area like never before."
The commemorative bus will be in service across Devon, throughout 2019.
Bob Dennison, Managing Director of Stagecoach South West, said: "We are delighted to be celebrating Devon General's significant legacy, throughout the centenary year. By creating the special bus livery, we hope to share Devon General's story with the local community, as the bus takes to the roads."
The Devon General Omnibus and Touring Company started bus operations in South and East Devon in 1919 and, to celebrate 100 years of bus travel, the Devon General Society will be hosting activities throughout the year.