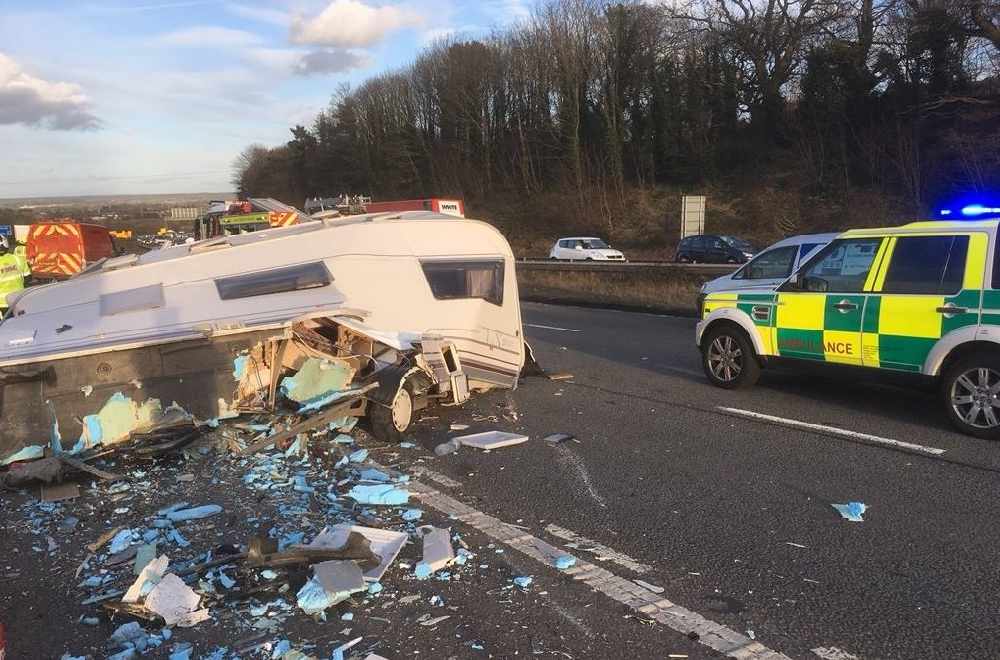 Many happened on the M5, A38 and A30
The figures show that 21 of the 52 collisions took place on 'unclassified' roads in the region, while nearly half of the incidents took place between May and August.
However, the data only records incidents in which there has either been an offence committed, allegations of an offence have been made, other emergency services were called to the scene of the collision, or it was a single vehicle collision where it had lost control.
Of the collisions, a further four took place on the A30, three of the M5, four on the A39, while six happened on the A38.
June 2016 was the month that saw the highest number of collisions, five, while there were four in May 2016 and May 2018.
The table below shows collisions involving caravans from August 2015 to July 2018, including the collision road. The involvement in the collision does not indicate fault on behalf of the caravan owner
| | |
| --- | --- |
| Month / Year | Road |
| Aug-2015 | A379 |
| Sep-2015 | A39 |
| Nov-2015 | Unclassified |
| Mar-2016 | A38 |
| May-2016 | A386 |
| May-2016 | Unclassified |
| May-2016 | A390 |
| May-2016 | A38 |
| Jun-2016 | A39 |
| Jun-2016 | A377 |
| Jun-2016 | Unclassified |
| Jun-2016 | A30 |
| Jun-2016 | A30 |
| Jul-2016 | Unclassified |
| Aug-2016 | Unclassified |
| Aug-2016 | A30 |
| Aug-2016 | Unclassified |
| Sep-2016 | A70 |
| Oct-2016 | B3181 |
| Oct-2016 | A38 |
| Oct-2016 | Unclassified |
| Nov-2016 | M5 |
| Nov-2016 | Unclassified |
| Dec-2016 | Unclassified |
| Mar-2017 | Unclassified |
| Mar-2017 | A38 |
| Apr-2017 | A39 |
| Apr-2017 | Unclassified |
| May-2017 | Unclassified |
| Jun-2017 | A380 |
| Jun-2017 | Unclassified |
| Jun-2017 | A3071 |
| Aug-2017 | A361 |
| Aug-2017 | Unclassified |
| Aug-2017 | Unclassified |
| Sep-2017 | A30 |
| Oct-2017 | A386 |
| Nov-2017 | A39 |
| Nov-2017 | B3269 |
| Nov-2017 | B3196 |
| Jan-2018 | A30 |
| Mar-2018 | Unclassified |
| Mar-2018 | Unclassified |
| Mar-2018 | M5 |
| Apr-2018 | Unclassified |
| Apr-2018 | Unclassified |
| May-2018 | A38 |
| May-2018 | Unclassified |
| May-2018 | M5 |
| May-2018 | A38 |
| Jun-2018 | Unclassified |
| Jun-2018 | M5 |
| Total | 52 Collisions |
Please note, that from 1st January 2008 –
Damage only Road Traffic Collisions (RTCs) will not be recorded unless there is a clear and specified purpose for doing so, specifically:
Section 170 RTA 1988 not complied with (fail to stop)
Police vehicle involved
Other emergency services vehicle responding to an incident are involved
The collision is one that provides a realistic prospect of securing a conviction against one of the drivers (Threshold Test aspect of the Full Code Test for Crown Prosecutors')
Single vehicle loss of control
Also note that from March 2010 –
Non-injury road traffic collisions will not be recorded or investigated unless one or more of the following conditions apply:
A driver has failed to comply fully with the statutory requirements of the Road Traffic Act, e.g. fail to stop; exchange details
Allegations have been made at the scene and/or the attending officer considers that there is sufficient corroborated evidence about the manner of driving to prove an offence.
An offence is apparent – i.e. the driver has been arrested for excess alcohol"