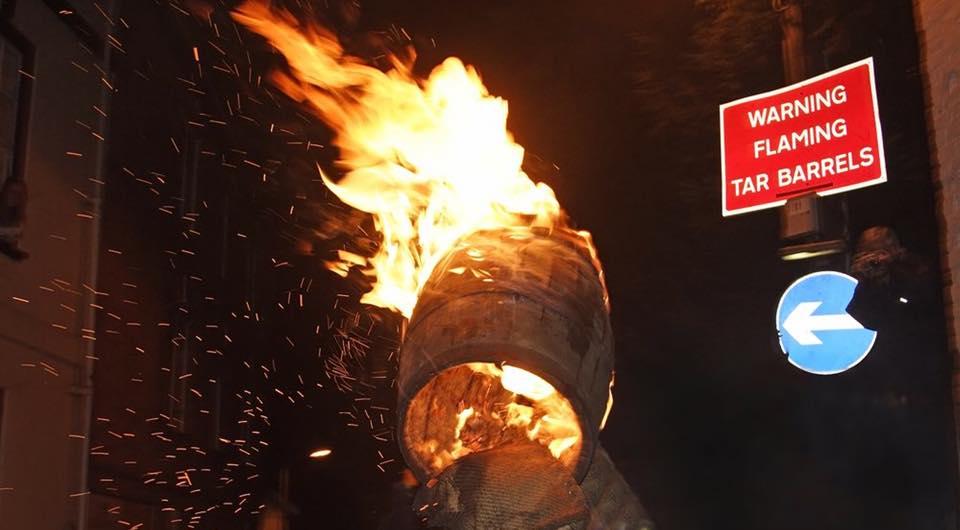 Image: Ventons Devon Cyder‎, Facebook
All you need to know ahead of tonight's event
It's the 5th of November. Which only means one thing in East Devon. It's Tar Barrels night in Ottery St Mary.
Thousands of people line the streets to watch local people carry burning barrels, drenched in tar through the streets.
Some road closures are in place from 3.30pm, with the rest of the town closed from 5pm. The event starts at around 7pm and the road closures will be lifted at around 1am tomorrow (Wednesday 6th November).
Here's the advice from organizers:
There will only be 2 car parks open, because of the recent wet weather. These are:
Otter Nurseries, Gosford Road. All access from the A30 is via the B3177 via Alfington
Finnimore Industrial Estate.
Organizers have warned that no other parking will be available - including on clearways, because they need to make sure emergency vehicles have access.
Local residents have also been warned that road closures will be manned and blocked. They are being advised to park in one of the car parks, pay £10 and ask for a receipt which can then be claimed back.
The 3:30pm closure will affect the following streets and cul-de-sacs:
Jesu St at the Tip Hill Junction. Yonder St (Bridgefield) at the Slade Road and Furzebrook junction. Brook St at the Silver St junction.
Sandhill St at the Cornhill Gold St junction. All the way through New Street on to the Furzebrook junction.
This closure will also affect New lane, below the Sunnyhill junction, Spring gardens, Brookdale, Chapel Lane, Yonder close and Batts lane.
Access to Toad pitt Lane will be via Bendarroch Rd only. There will be no access via Exeter Rd from 5pm, this will be blocked to stop the general public abandoning cars and affecting residents access.
If any resident has an emergency and has to leave the town while the event is on, it is essential to contact the event transport officer to get help to you. Please call 07555 088568 for the event transport officer. This number is for emergency use only.
More information from organizers can be found here.