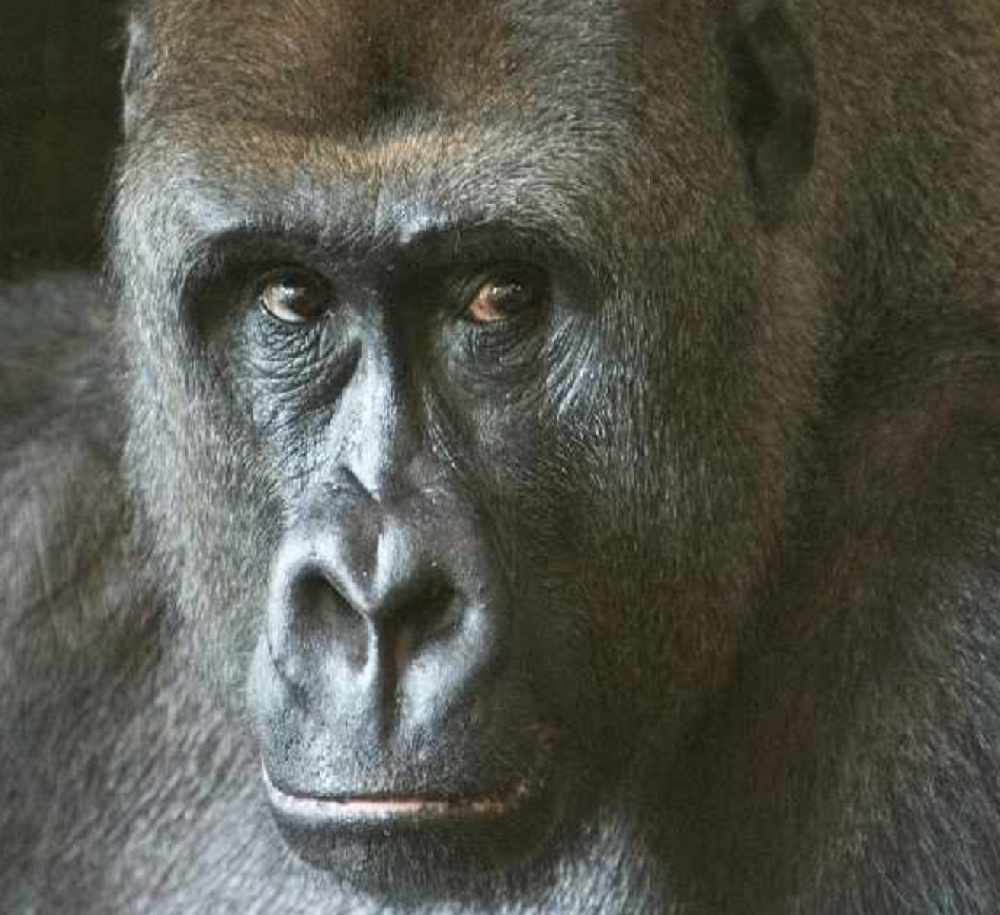 Deposed: Pertinax was top dog for 20 years
Ape coup at Devon zoo
A 200 kilo gorilla has been forcibly retired by the family he has brought up.
Pertinax, a mellow 37-year-old patriarch, boss of Paignton Zoo's gorilla gang for more than 20 years, has had his metaphorical wings clipped by his three former friends, revealing that even those you have trusted for decades may stab you in the back when all you want to do is eat bananas in your old age. All four of the group of Western lowland gorillas are confirmed bachelors, which doesn't mean the same thing for apes as it may do for humans. Indeed the younger gorillas that Pertinax has overseen in his two decades at the top of the pile have gone on to sire families.
Now an old man with foot ulcers and intestinal issues, the other three, Kiondo, Kivu and N'Dowe, have taken advantage. These three, all teenagers, hit the national headlines last year, when they went on the rampage and smashed up their enclosure. Two of them were darted and the other distracted by food to get them back to the main part of their enclosure. The zoo told Radio Exe at the time they were "naughty teenage boys." But perhaps they were plotting all the time. This is how Planet of the Apes started.
As for Pertinax, he may have played a part in gorilla conservation for what is an endangered species, but he'd been getting more cantankerous in his old age. Mammal keepers Anne Lunt and Gemma Keohane know him better than anyone. "He's grumpy with strangers but he's chilled with people he's familiar with," says Anne. "He likes what he knows – he's set in his ways! But he definitely became much more relaxed and content once he was separated from the others." There are parallels here with wild behaviours – alpha males are eventually defeated and replaced – it's the way of the gorilla world.
The zoo has now provided him with a complex and stimulating environment with platforms, ropes, old plastic barrels, dens, private spaces, substrates of bark and other materials to rummage through. He has things to play with, things to manipulate, things to smell or taste.
"On top of that, Pertinax enjoys the company of keepers," says Nic Dunn, the zoo's curator of mammals. "He displays play behaviours when they're around. He also communicates with the other three through the mesh, even though they don't have direct physical contact."
The zoo's charity's gorilla group plays a vital role in international gorilla conservation, providing somewhere for young males to grow up in a social environment. Some may move on to be the dominant males in bachelor or family groups in other collections as part of the European breeding programme.
Nic Dunn continues: "The dominance in the trio is fairly fluid as they're still young silverbacks. They are yet to fully mature. Pertinax has been managed away from the others for a while. He is 36 now, and we would consider 40 or 50 to be a typical age for a male gorilla in a zoo.
"He has a few health issues. He's got bad feet, colitis and he's not as active as he used to be." Set in his ways? Health issues? He sounds like a lot of older guys… "He has a good life, and we're always striving to make it better. For now, Pertinax's health issues don't cause him too much trouble – but we keep a close eye on the old boy."