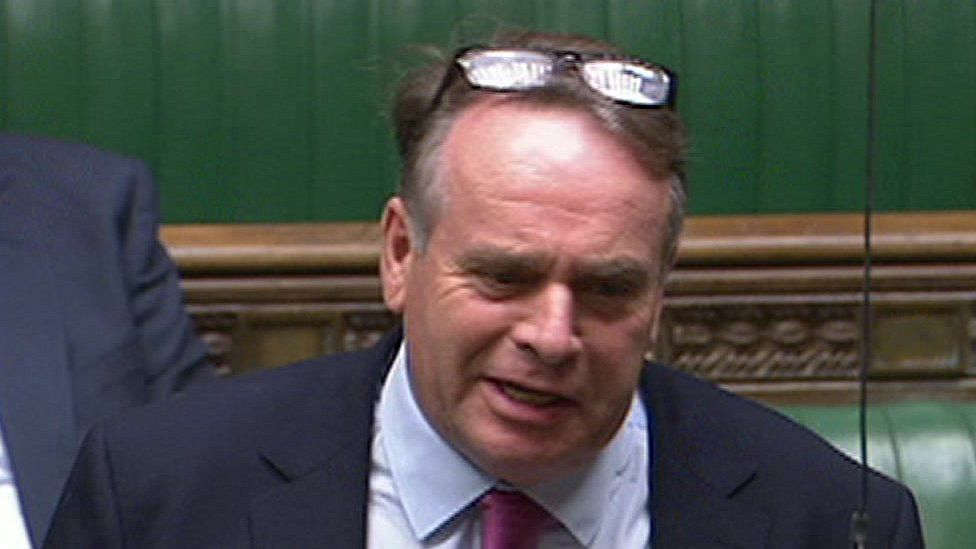 Neil Parish was MP for Tiverton & Honiton
Although he did fess up
Neil Parish, the MP who admitted to watching pornography in the House of Commons, says he doesn't know if he may have taken the blame for the incident from someone else.
Mr Parish resigned last month after admitting to viewing porn on his mobile phone in parliament.
News that an unspecified Tory MP had been reported to the chief whip for watching adult material in the commons chamber began to emerge on Wednesday 27 April.
In an interview with the Local Democracy Reporting Service, Mr Parish was asked to comment on speculation that he had taken the bullet for someone else.
Mr Parish chuckled and said: "I don't know. I'm not going to sort of speculate on it really because I think as far as I'm concerned the matter is settled and I'm retiring from parliament and I look forward to a life outside of parliament where I can further my causes.
"I think whenever bullets are flying in politics sometimes that does happen but, like I said, what is done is done and cannot be undone.
"In politics but in business and family life, the one thing I will do when I'm under pressure – rightly or wrongly – [I] will make a decision and that's why I came to the decision quickly and did it and I stand by my decision but I thank everybody for their support. I wish my successor well."
On the morning that Mr Parish was revealed as the MP who had watched porn, but before the news was public, he met East Devon District Council's leader Cllr Paul Arnott (Independent East Devon Alliance and Democratic Alliance Group, Coly Valley), who later said: "I was grateful to him for the meeting which was professional and civil.
"I have absolutely no doubt that he had no idea what was to befall him just a few hours later."
The council leader said the pair had "a productive hour" discussing various issues facing the council and East Devon.
When initially asked if he had an inkling that something was going to happen on that Friday, Mr Parish said: "I think the storm was about to break, but I suppose [there was] my professionalism and the fact that I did my job right to the end.
"I even did a meeting with local pig farmers with [North Oxfordshire Conservative MP] Victoria Prentis even after I resigned just to help with the situation.
"I did keep going right to the end. I did my job to the end and then I resigned because I felt that was the best way forward and I think the best way now is to remain there.
On whether he knew he was going to be publicly identified, he said: "What I don't think I was quite prepared for was the ferocity of it and I think that I wasn't necessarily expecting it to come out in quite the way it did but I think once it came out then I believed, and talking to my wife, the decision to resign was the right one to do."
Mr Parish also revealed that he would not be standing as a candidate in the upcoming Tiverton & Honiton by-election triggered following his resignation.
There had been speculation that he was planning to stand again but Mr Parish now says he's backing Tory candidate Helen Hurford.