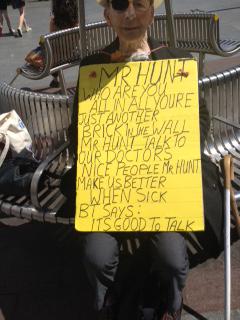 An Exeter pensioner who's staging a one-man protest in support of the junior doctors is becoming a regular sight on the High Street.

Chris Masterson - who's been treated for cancer and is still in poor health - sits outside wearing a yellow hand-written placard.
He's also spent some time outside the Exeter RD&E hospital.
He thinks the doctors are right to oppose the new contracts being forced upon them - because they understand the demands of the job - while the Prime Minister and Health Secretary have no medical qualifications.