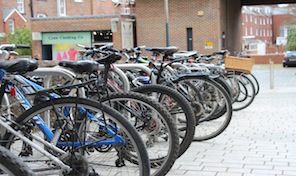 Want to drive? On yer bike!
It's "only way to prevent gridlock"
Exeter's Green Party says the only way to prevent gridlock in the city once people begin returning to work is to reallocate road space to cyclists and pedestrians.
They've written to leaders of Exeter City and Devon County Councils asking them what steps they plan to take to comply with government demands to reallocate road space to people walking and cycling. They suggest Exeter could install 'pop-up' cycle facilities to ensure physical separation from traffic; using cones and barriers to widen footways along lengths of road; reduce speed limits to 20 mph city wide; use planters or large barriers to prevent through traffic in residential streets and introduce measures to safeguard blue badge holders and people who use electric buggies.

Exeter's only Green councillor, Diana Moore, who represents St David's, says: "It is vital that both councils work cooperatively together, and as swiftly as possible, to reallocate road space to active travel. Creating more space for walkers and cyclists in Exeter is vital to keep people safe from infection and help prevent a return to the congestion and air pollution that plagued our city before the covid-19 crisis and subsequent lockdown. Clearly public transport will be unable to cope safely with high passenger numbers, so increasing active travel, especially for the 40 per cent of urban journeys that are less than two miles, will be the only way to prevent gridlock in Exeter.
"We need a joined-up approach to enable people to cycle safely into and around the city centre and to places of work, especially, for example, the hospital from all directions. This will mean reallocating space on sections of major routes into and around the city. Special attention will need to be given to creating safe routes to schools, the college and university."
In 2015, Exeter committed to becoming a carbon-neutral congestion-free city within 10 years, an aim that was ambitious when it was set and which, until lockdown was looking increasingly unachievable. But the current health crisis decimated traffic in one of the UK's most congested cities. Somewhere along the route, the carbon-neutral target date was put back to 2030. In April, a group called Exeter City Futures published its 'roadmap' [we're unsure if a pun is intended] to achieving carbon neutrality and on Wednesday is hosting a virtual 'emergency travel and transport' meeting to address the issues. Like the Greens, the group, which is run by a hybrid public-private sector board but behind which the driving force is entrepreneurial, also wants to reduce reliance on cars and encourage active travel.
Exeter City Council may be conflicted. It supports the pledge to carbon neutrality, but also receives about half its income from residents and visitors from car parking charges. The loss of millions of pounds of income could affect its ability to deliver services, unless further government funding is received. That request has broad political support. Earlier this month, Exeter's Greens warned that loss of car parking revenue was hitting the city. In a statement they said: "During the first two weeks of the lockdown, income from car parking all but dried up, falling from a budgeted £331,000 to an actual £11,000." If the Greens, the city council and Exeter City Council are truly committed to having fewer vehicles on Exeter's streets, that loss of income will continue, with the gap needing to be plugged in other ways if services are to be maintained.
More details of Exeter City Futures roadmap to net carbon neutrality at: https://www.exetercityfutures.com/insights/net-zero-exeter-plan/
Embed not found