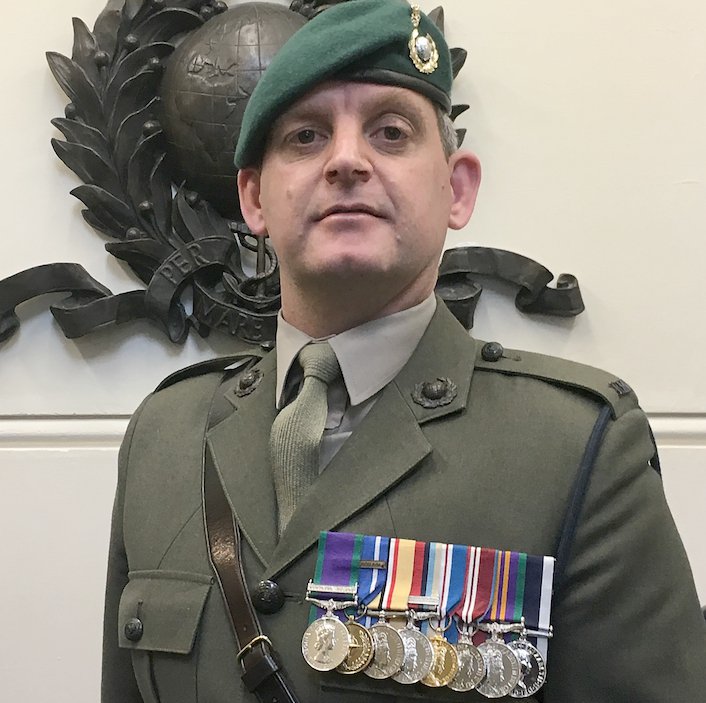 Now keeping school discipline: Dave Mason MBE (courtesy: University of Exeter)
Son studies at Exeter University at same time
An Exeter University student is on the brink of becoming a history teacher after sitting exams along the way whilst serving in Afghanistan.
Royal Marine Dave Mason, who's recently been awarded an MBE, is studying at Exeter at the same time as his teenage son Harry. Not that Harry's had any say in it.
Regimental sergeant major Mason said: "Our paths haven't crossed even though we are based on the same campus, I'm not sure if Harry would want to hang around with me if he did see me though!"
Right now though, because of the pandemic, both are studying at their home in Taunton, where presumably their paths do cross from time to time.
It's been quite a journey for Mr Mason, who's a serial exam-sitting. Whilst serving, he took qualifications, from GCSEs, to A-levels, a history degree with the Open University and then a MA in military history with the University of Birmingham. He sat tests on World War One and Two while stationed at Helmand Province, and completed his degree while serving three tours of duty - at times in remote locations without internet.
Mr Mason is using his passion for history – and his experience training nw Royal Marine recruits – in his new life as a trainee history teacher at Haygrove School in Bridgwater. He is completing his PGCE through the Quantock Teaching Alliance and the University of Exeter.
Mr Mason started his service life in 1992 and has served in 3 Commando Brigade for the vast majority of his career, completing tours of duty in Northern Ireland, the former Yugoslavia, Iraq and Afghanistan. He has been teaching in the school and online, as well as attending university lectures and seminars online and in person.
Father-of-three Mr Mason said: "I'll always remember sitting an Open University exam in Forward Operating Base Price, with an education officer sat with me. You get so well looked after in the services that I usually had access to the internet for my studies, but sometimes we were in such remote places I could only read books, and had to catch up when I got back.
"I trained new recruits and officers, so I had a lot of transferable skills to take into the teaching profession. I was used to explaining things through the technique of "scaffolding" – as that happens in the forces and also in teaching – but of course schools are very different to the Armed Forces.
"I've found pupils are really interested in my previous job, it's been a good way of getting to know them. I think my work as a Royal Marine helps me quickly build relationships with students.
"I'm really enjoying the course, I particularly appreciate the way reflecting on our work and teaching is built into it. My teaching is observed and I get very useful feedback. Lecturers at the University of Exeter have done an amazing job in keeping everything going so well this year, and I feel really well supported. The team of history teachers at Haygrove are amazing, I've learned so much from them. The pupils are great too."
Mr Mason was "gobsmacked" to be awarded his MBE in this year's New Year's Honours. He said: "I wasn't expecting anything like that, and I couldn't think of a better way for my 29 years in the military to be recognised. I had an amazing career and I loved every minute. I think teaching will compare, although it is very different."
Mr Mason is still serving in the Royal Marines until the end of March, and fortunate enough to have attended the PGCE course during his resettlement period. He will qualify as a teacher in June, and will be teaching and completing assignments, including a project on children's mental health, until then.
Bryan Smith, University of Exeter subject leader for PGCE secondary history, said: "Dave has been an absolute pleasure to work with this year, he's a genuinely lovely chap who puts everyone around him at ease. I've been delighted to watch him develop as a teacher, reflecting and responding to everything he's exposed to and impressing with his commitment and dedication. He's going to make an excellent teacher and I look forward to hearing about his many successes in his future career."