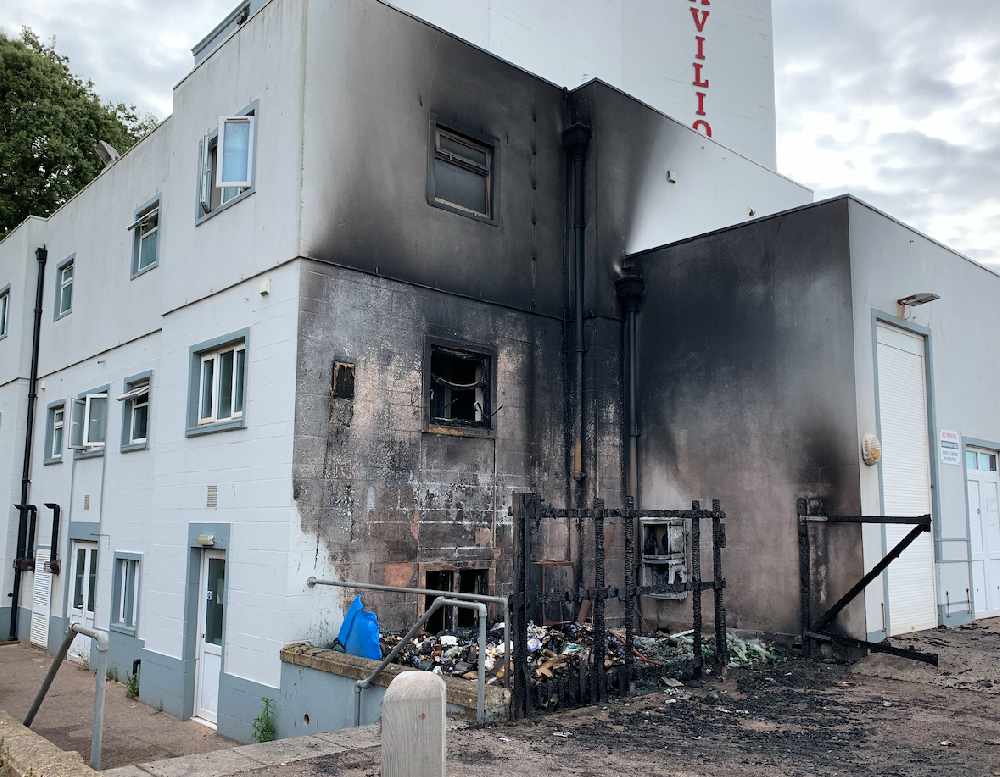 Exmouth Pavilion is badly damaged after arson attack
Police warn about bins near property
A spate of fires that have begun in bins outside buildings in Exmouth and Budleigh Salterton are liked, according to police, who are now treating seven incidents mostly in July, as linked.
The first six fires were at commercial premises, including two prominent Exmouth cafes, two sports clubs, a shop and the seafront concert and events venue, the Pavilion. But in the early hours of Friday 24 July, things took a more sinister turn when a fire was started outside someone's home in Budleigh Salterton. Residents had to be evacuated, although no one was injured in the attack. After the Pavilion fire in which an accelerant is believed to have been used, police warned that at some point lives would be at risk.
Police and the fire service are urging residents and business owners to be vigilant, take steps to reduce the risk and to report any suspicious behaviour.
The bins at Budleigh Salterton Football Club were also targeted around 3am on Saturday 11 July, On Wednesday 7 July, several thousand pounds worth of damage was caused to the Bumble and Bee tearoom in the Manor Gardens, Exmouth, after a fire started at 2.45am and spread to the building. Further bin fires occurred at Lympstone Boxing Club at 2pm on Sunday 5 July, at Harbour View Café in Exmouth between 8.30am and 9am on Friday 3 July and at Hamilton Lane in Exmouth between 4am and 7am on Sunday 3 May.
Officers will continue to conduct door-to-door enquiries in the affected areas and are urging people to be vigilant.
Investigating officer, detective sergeant Tim Hegarty of Exmouth CID, said: "So far these fires have caused damage to people's business premises - at times causing a lot of financial damage, anguish and inconvenience. The fire [at Greenaway Lane, Budleigh Salterton] was outside a residential property where people were asleep. This is deeply concerning and fortunately the fire was not able to spread from the bin so no-one was injured.
"We would like to hear from anyone who have witnessed any suspicious activity or have concerns about any person they may know who has, for example, come home smelling of fire, or has developed a fascination with fire or the emergency services."
Anyone with any information or CCTV footage should ring101 or email 101@dc.police.uk quoting log number 0099 of 13 July.
Area Manager Darren Peters, of Devon and Somerset Fire and Rescue Service, said: "Fires started deliberately can be particularly dangerous because they generally develop much faster. Fires started in bins or on open ground can spread to properties or vehicles nearby and put people's lives at risk. The service works closely with the police and always seeks to prosecute those people who have started fires deliberately. We are asking members of the public to be vigilant and keep all flammable goods well and securely stored."
The service has issued the following advice to reduce the chances of arson occurring:
Make sure you regularly remove all combustible rubbish from gardens and driveways.
Keep bins in a secure place and only put them out on the day of collection
Do not place bins adjacent to buildings or vehicles.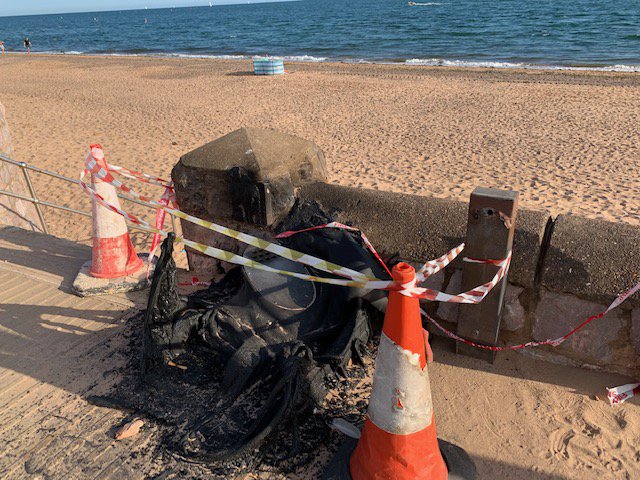 This (former) bin on Exmouth seafront was also destroyed recently