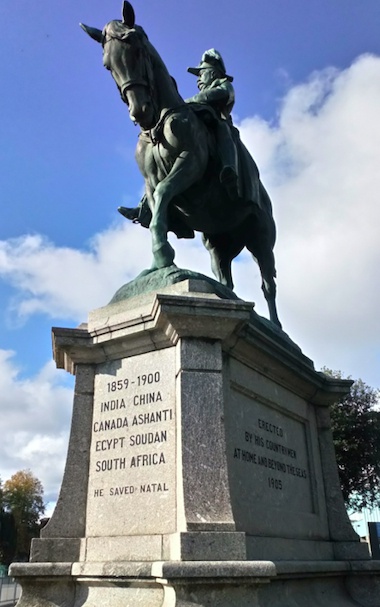 Should he stay or should he go? General Sir Redvers Buller outside Exeter College (photo courtesy: Adam Manning)
Victoria Cross winner believed Zulus should be shot
He's Exeter's most famous statue, positioned outside Exeter College. A colonial hero/villain surreptitiously seeping questionable values into the minds of youngsters congregating outside, or trying to place a traffic cone on his head? It's 130 years since his heyday. Few people would know who he was or what led him to be honoured with a massive statue in Exeter that stands to this day. It's one of the city's defining images.
Now, as Black Lives Matter becomes a global issue, and days after slave-trader Edward Colston's statue fell in Bristol, calls have come for Redvers Buller to go the same way. But the statue is Grade II under a 67-year-old protection order.
The local Black Lives Matter movement has closed down discussion of this matter on its Facebook page. They want to be respected as a peaceful movement, following a vigil at Flowerpot Fields on Saturday that passed without incident and to much acclaim from those attending.
But now the leader of Labour-led Exeter City Council has called for a review into the future General Buller and will table a motion at the next council meeting.
Council Leader Phil Bialyk said: "Exeter is a diverse community which in the main is at peace with itself. It's important how we remember and teach future generations about our history. We will consult on how we do this. But it isn't my gift or that of my colleagues to make a unilateral decision, it's one that the whole city must come to terms with. The values and sentiment behind the Black Lives Matter movement are incredibly important to myself and colleagues. We will listen to opinions and use the platforms that we have as politicians, to make sure, that all voices are heard."
The statue was paid for by money raised by the people of Devon and unveiled on ' Buller Day' in 1905. It is currently situated on land owned by Devon County Council, with the monument itself maintained by the city council.
It was given Grade II listing preservation status in 1953 so any complete or partial removal or relocation would require widespread consultation. It would also require formal planning consent along with permission from Historic England.
General Sir Redvers was Crediton's MP, whose family seat is at Downes Crediton, where his remains lie. 'He saved Netal' proclaims the inscription, no doubt to his approval, as he attended the unveiling of his own bronze in 1905, despite his military career ending in controversy, if not debacle. One of his enduring beliefs, it was alleged, was that Zulus should have the decency to stand in the open to be shot by British rifles. It may be rumour, but the Devon general is thought to be one of the only people to have ordered the arrest of a young Winston Churchill, then a journalist reporting from the African war zone, who thought Buller's tactics were madness.
The horse is Biffen, one of his favourites. And although the general was happy with the statue, one thing disturbed him. The horse's bottom faces towards Crediton, which people there considered a snub at the time. Countless Zulus who were massacred by General Buller's troops while surrendering.
As a winner of the Victoria Cross, awarded for bravery in the face of the enemy, Buller's military record was exemplary for the era - at least right until his preparations started to go awry. Planning for the heat of South African battle, he wouldn't let his men dig trenches because it would spoil England's green and pleasant land. Neither would he allow them to take cover in manoeuvres in case they got their uniforms dirty.
Sir Redvers military career came to an end after the Times published an article criticising the army, to which Buller responded in a speech: a serious breach of military discipline. Or at least that's what his bosses said. Arguably it was an excuse to get rid of him after his decisions had become increasingly eccentric. Buller's tactics had led thousands of British troops being killed because they hadn't taken enough spades to dig decent trenches from which to fight the Boers. Two thousand men shared 20 tools, which meant few trenches and a lot of open ground. Redvers Buller – by that time rechristened Sir Reverse Buller after his men legged it from murderous attack when exposed on open ground – was said to have reached new heights of British military ineptitude. Then a war correspondent, Churchill warned Buller that his men were trapped on three sides and would lose the battle unless tactics were changed. Buller thought about this for a moment and then ordered Churchill's arrest, some believe. After the massacre, top brass wanted someone to take the rap, and the 60-year-old Buller was the fall guy.
More than a century on from its unveiling, Sir Redvers time may be up. But that's to be decided after consultation.