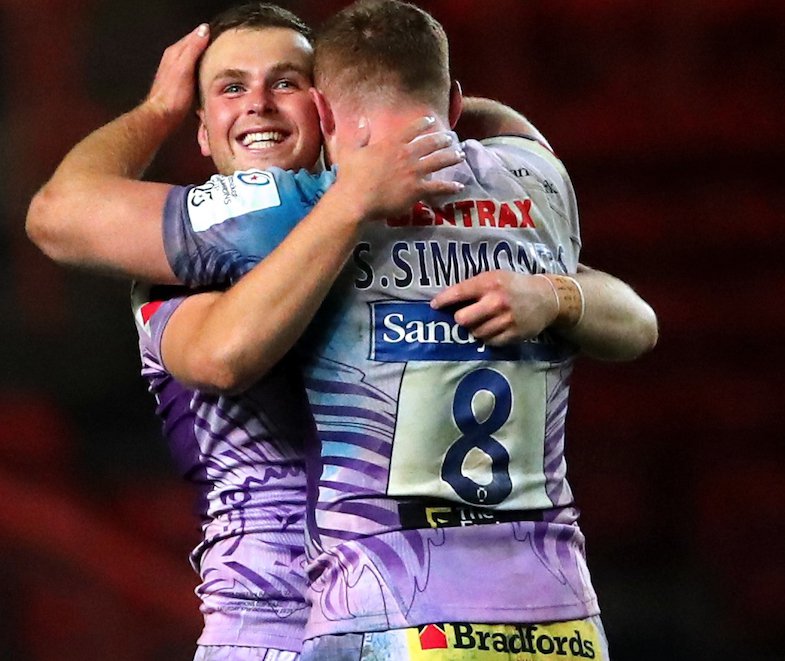 100th game for Joe Simmonds
Subdued crowd; subdued players
You'd have thought this would have been a walkover. London Irish yet to win a game. Chiefs on an an emerging roll.
But the visitors were not going to roll over, and were into their stride faster than Exeter; within four minutes in fact, with a converted try hardly noticed by the subdued Chiefs fans.
Not a Tomahawk was chopped in the deathly silence of the first few minutes. And then it got worse. Not 10 minutes on the clock and the Chiefs found themselves 14-nil down. Fans tried to yelp some atmosphere into Sandy Park on the restart; a spectator whipped out his outsized bongo to bash out a war cry, and suddenly Exeter woke up to press Irish back.
But time and time again they were foiled, but slowly the run of play began to turn Exeter's way. A series of false starts on a penalty a metre from London Irish's tryline eventually rewarded Will Witty's tenacity – and when two minutes later a sublime run by Stuart Hogg left Irish players flailing for his ankles, suddenly, as quickly as the game had gone against Exeter, scores were level.
Fourteen-all at half time, and then Groundhog Day at the start of the second, when London Irish have their third try within minutes. Alhough not converted, the Sandy Park silence is as deathly as at the opening period of the game.
Exeter seemed simply to lack the fire the crowd has come to expect. And the players weren't getting the voluminous tribal noise to feed off. Then Irish do it again, to confirm their bonus point, and before you know it, the score's a rather improbable 14-26.
Toughness, togetherness, clear-headedness defines the Chiefs. Not giving in easily, they put together a determined passage of play and create another try, a second for Will Witty – but it is quickly chalked off after a TMO review.
It just didn't seem a determined Chiefs' performance, and the crowd sensed it.
So when a rampant Irish then scored their fifth try and brought the score to 14-33 with 16 minutes to go, that defining toughness, togetherness, clear-headedness was needed all the more. Fans' favourite Jack Nowell tricked and twisted his way to a try, his first of the season.
The Chiefs finished without a point, London Irish taking all five. And their first league win in 12 matches.
In the whole of last season, Exeter lost just six regular games. Six games into this one, they've come second-place in half of games played; with two of those losses at the once-impenetrable Sandy Park.
Concerns for the supporters' annual pilgrimage to Twickenham to enjoy the Chiefs in the final? It's too early for that.
But on the day Joe Simmonds and Ollie Devoto each made their 100th appearance for the team, it could have been a better day at the office, and London Irish were deserved winners.
Attendance; 10,358
Exeter: Hogg; Nowell, Slade (capt), Hendrickson, O'Flaherty; J Simmonds, Maunder; Moon, Yeandle, Nixon, Witty, Hill, S Skinner, Capstick, S SimmondsReplacements: Innard, Hepburn, Williams, Lonsdale, Armand, Hidalgo-Clyne, H Skinner, Devoto
London Irish: Parton; Loader, Rona, Hepetema, Hassell-Collins; Jackson, Phipps; Goodrick-Clarke, Creevy, Hoskins, Mafi, Simmons, Rogerson (capt), Pearson, Tuisue.Replacements: Willemse, Dell, Van der Merwe, Nott, Cooke, White, Jennings, Van Rensburg.
Referee: Hamish Smales