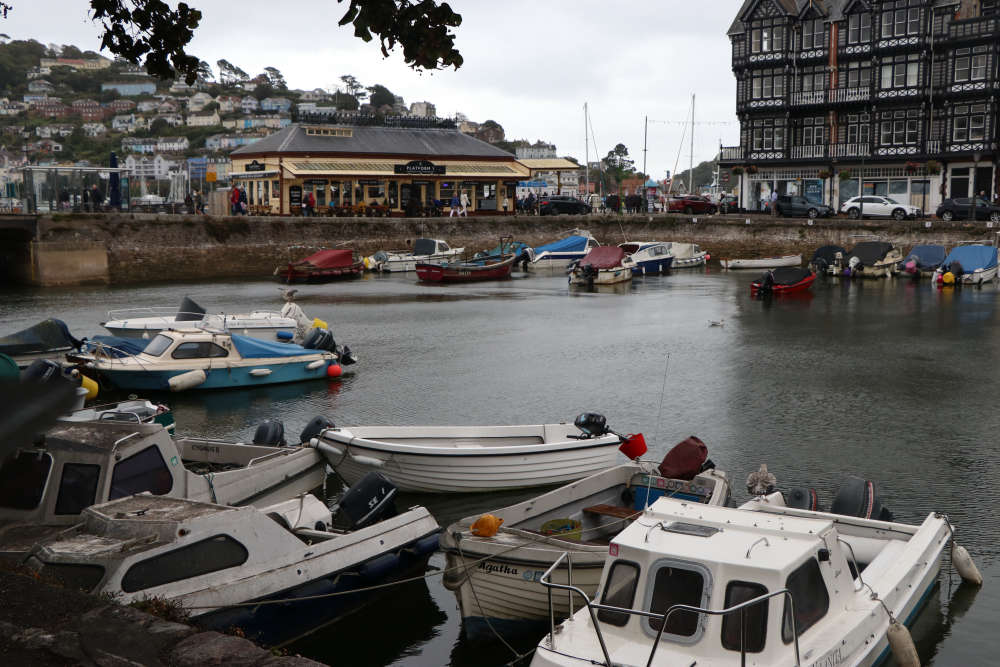 Dartmouth Harbour (courtesy: LDRS)
Blue-on-blue pressure on affordability
A Conservative-run council in Devon plans to challenge the government in a bid to tackle a major housing problem.
South Hams District Council declared the housing crisis last month due to the severe lack of affordable homes in the local authority.
Residents and councillors in some towns, such as Dartmouth, have criticised the number of millionaires buying properties as second homes. The trend has forced the average price paid for a home in coastal town up to £542,032, but local salaries average less than £30,000.
Gill Pritchard-Smith has lived in Dartmouth since 1948 and said the changes are not welcome. "Dartmouth is not the same as it was before when it was amenable to everybody and the shops were glorious and busy," she said.
"I mean, nice to sell your house if you want and make a packet and go off. But from then on, what?" Ms Pritchard-Smith was especially worried about future generations.
"Just tell me what's going to happen now to young people. Both my sons had to go away. There's no work down here. They couldn't live down here. They couldn't afford to buy a house."
The severe crisis in places like Dartmouth and other South Hams towns led to councillors deciding to take on the government.
Cllr Judy Pearce (Conservative, Salcombe and Thurlestone) leader of South Hams District Council said: "I said that we would lobby government and when the executive meet next week, I will be asking them to approve the content of my letter to Michael Gove MP.
"Many of the issues we face cannot be solved at a local level and we need the government to step in and also take action.
"If Mr Gove can take the four actions we are asking of him, it would have a significant, timely and targeting positive impact for our residents."
The council plans to approach Michael Gove in his role as secretary of state for levelling up, housing and communities.
The four main issues being presented to Mr Gove are:
The problems of developers sitting on planning permissions that are not being built
Closing a business rates loophole on second homes
Addressing the problems of the local housing allowance being too low
To lobby government to allow local councils to be able to charge up to 200 per cent council tax on second or holiday homes, as they do in Wales.
Cllr Jonathan Hawkins' (Conservative) ward covers Dartmouth and East Dart in the South Hams district. He said he was not against millionaires moving into the town if they don't stop local people from having homes. He agreed that it was now time for central government to get involved.
"The big issue and the concern we've all got is that central government's criteria for affordable housing – open market – for an area like Dartmouth and the South Hams doesn't actually help local residents, he said. "It has to be 80 per cent of the average house price.
"I obviously welcome millionaires to Dartmouth and Kingswear and to the South Hams but our priority has to be to provide local people with homes they can afford to live in.
"For a town to be sustainable and for its school to survive we do need local people, we need key worker accommodation and that's our priority."
Sally Hibbert moved to Dartmouth from Manchester more than 10 years ago and runs a small clothing shop in the Old Market. Ms Hibbert is also a town councillor (Clifton Ward) and said urgent action was needed to halt spiralling house prices.
"I've seen a lot of youngsters from the area leave because they can't afford to live here. There's a great shortage of properties," she said.
"If [millionaires] are moving here, the houses are still going to sell. The prices are still going to go up and we've still got children growing up here and they still can't afford to buy anywhere or even move in anywhere because there's nowhere to move to."
A development of 450 new homes is underway at Little Cotton Farm, just outside Dartmouth. It is the first major new homes scheme for 20 years and promises to offer 81 'affordable' homes.
But Ms Hibbert said house prices would not be anywhere near the budget of most local people.
"I'm a small business owner but I don't earn anywhere near the amount that they're asking for a property, not even a two-bed flat.
"I just like affordable houses. I'm currently in a flat with three of my children. We haven't any outside space. They're craving outside space. They want and need a garden. But there's just nothing."
Gill Pritchard-Smith also admitted she did not hold out much hope for the Little Cotton Farm development. "I think what we need is some control over holiday houses now and particularly the new plots of about 450 houses," she said.
"We don't see any control on that all. Well, there was talk about it, but of course, it's all too late." But Cllr Hawkins said it was never too late.
The urgent plans, to be discussed by the council next week, include ways to encourage people in large houses to downsize, in order to free up larger homes for larger families.
Councillors also want to form a Community Benefit Society – which is company allowing the council to own and manage a stock of rented homes. Some observers have suggested this is a return to providing council houses.
South Hams Executive Committee will discuss the plans next Thursday.