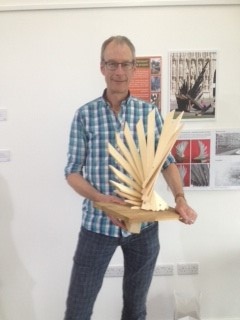 A three metre high bronze sculpture is to be created for Exeter - symbolising hope and renewal.

It's been designed by the Honiton-based artist Martin Staniforth who's already made a sculpture out of charred timber from the Royal Clarence Hotel fire.
He's now designed a more permanent work, which will resemble the appearance of the burnt wood, but will be cast in bronze.
Martin is appealing for ideas for where his sculpture could be placed - he's already looking at Cathedral Green, the Phoenix centre, or the new Princesshay leisure complex as possible locations.