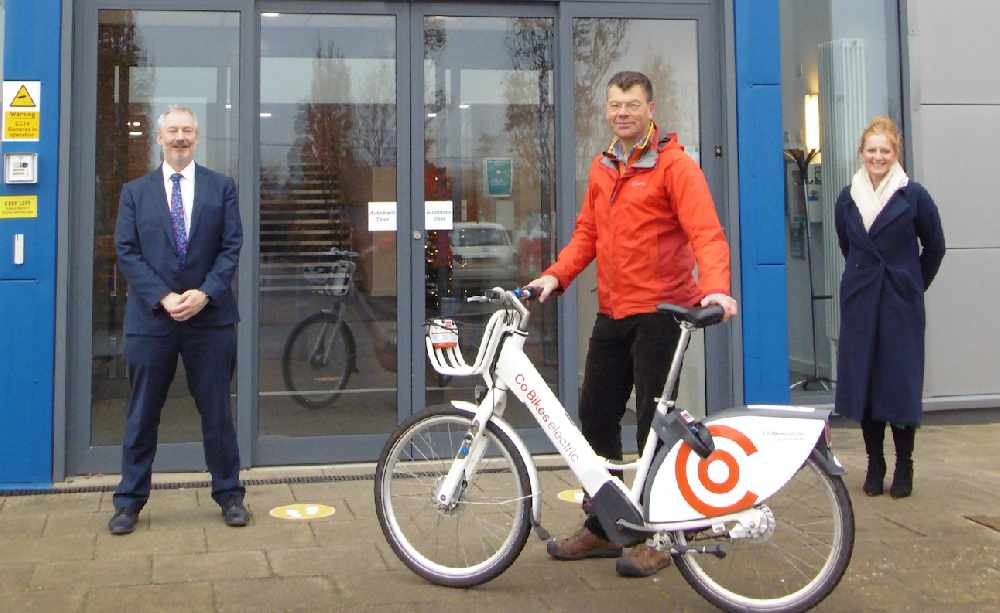 Mark Hodgson, centre, from Co Bikes with John Laremy and Rosie Hawkins from Exeter College
And more to come soon
An Exeter-based organisation that encourages people to use bikes on a rental basis for getting around the area has announced new electric bike stations for Sidwell Street, Cowick Street and at Exeter College's Future Skills Centre near Exeter Airport.
Co Bikes has already opened the base at Sidwell Street at the front of the British Heart Foundation store. The Cowick Street station will be located at St Thomas Precinct. Works on this location are currently underway and are due to be completed in early March.
Once lockdown eases, there will also be a Co Bikes dockless station located outside Exeter College's newest site, the Future Skills Centre near Exeter Airport.
Sixteen Co Bikes stations will the be operational in Exeter, with further locations around the city due to be announced in the coming weeks.
When the Future Skills Centre station opens, College staff will be given three months free access to Co Bikes. John Laramy OBE, principal and chief executive of Exeter College, said: "Once we have emerged from lockdown, Co Bikes will be a great alternative to the car for staff travelling between our Exeter sites, including the Future Skills Centre. I hope they will take advantage of this fantastic opportunity to experience the fun – and ease – of trying an e-bike for themselves. I'm a huge fan!"
Councillor Stuart Hughes, Devon County Council Cabinet Member with responsibility for cycling, said: "Following the introduction of Co Bikes' first dockless stations last autumn, it's fantastic to now see them adding even more stations, connecting up new areas of the city.
"Over the last year interest in cycling – and especially using e-bikes – has seen a huge surge in popularity. The continued expansion of Co Bikes, in partnership with Devon County Council, will give even more people access to this sustainable travel choice."
The Co Bikes network is powered by nextbike, who operate shared bike schemes in 200 cities around the world.