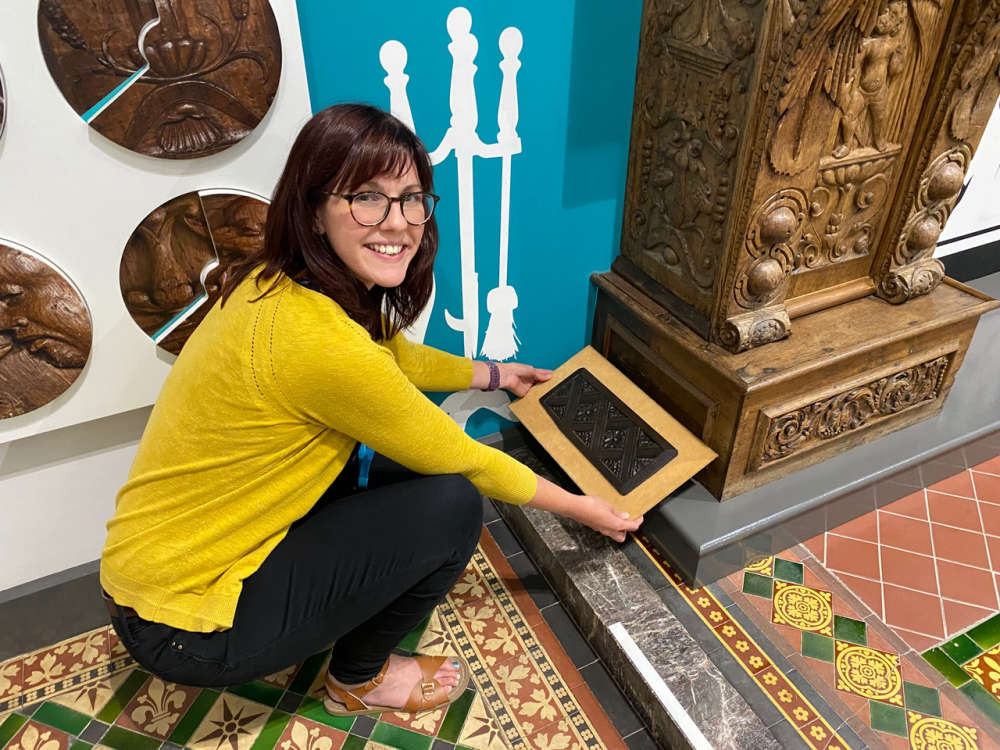 Dr Charlotte Dixon and the missing panel (image courtesy: Newton Abbot Museum)
It's part of the ' Sandford Orleigh Screen'
What is thought to be the missing panel of an historic Tudor oak screen has been reunited with the rest of its 16th century counterparts at Newton Abbot Museum.
The impressive overmantel used to grace the fireplace at nearby Sandford Orleigh, a grand house built by industrialist George Templer in the 1830s.
The wealthy landowner, whose family made its fortune in the granite and clay industries, was also warden of St Mary's Chapel in the town.
According to a newspaper article, he had some of the chapel's ancient oak carvings removed and, with sections taken from similar structures, installed at his new home.
The whole piece became known as the Sandford Orleigh Screen.
The building later became a school and during the 1960s was attended by a young David Weekes who went on to become Mayor of Teignmouth and Chairman of Teignbridge District Council.
A trip back to view his alma mater in the 1970s revealed that the property had deteriorated and workmen were busy carrying out repairs.
Mr Weekes, at the time an antiques trader, was allowed inside where he found the screen in a terrible condition and partly dismantled, ready to be removed.
Picking up a small piece from the floor he proffered some beer money and the carving was his, a treasured memento of his schooldays.
Mr Weekes almost persuaded a contact in the trade to take the rest of the carving, with the likelihood it would be shipped overseas. Only its gargantuan proportions saved the screen from being removed.
In the early 2000s it was donated to Newton Abbot Museum by Sandford Orleigh's new owners, but in a parlous condition.
A major 'Heart of Oak' fundraising campaign, supported by the National Lottery Heritage Fund, allowed it to be restored and put on display.
It now takes pride of place in the museum's new location, Newton's Place, a former church which, ironically, once served as an antiques centre.
Now, half a century after acquiring the piece, Mr Weekes has donated it to the museum and an initial inspection by curator Dr Charlotte Dixon revealed that it fits the only space on the screen not adorned with a carving, suggesting it may be one of the last pieces in the Sandford Orleigh jigsaw.
'My wife Marcia and I both had covid quite badly a month or so ago and I realised I have many bits and pieces which our family won't really be interested in or even know what they are,' said Mr Weekes, now in his mid-seventies.
Dr Dixon, who intends to carry out further inspection of the carving before putting it on display, said: 'I'm very very excited, it's incredible to be able to reunite this section of panel to the overmantel and to continue to tell its story.
'My sincere thanks to David and Marcia for passing it to us, we couldn't be more grateful.'