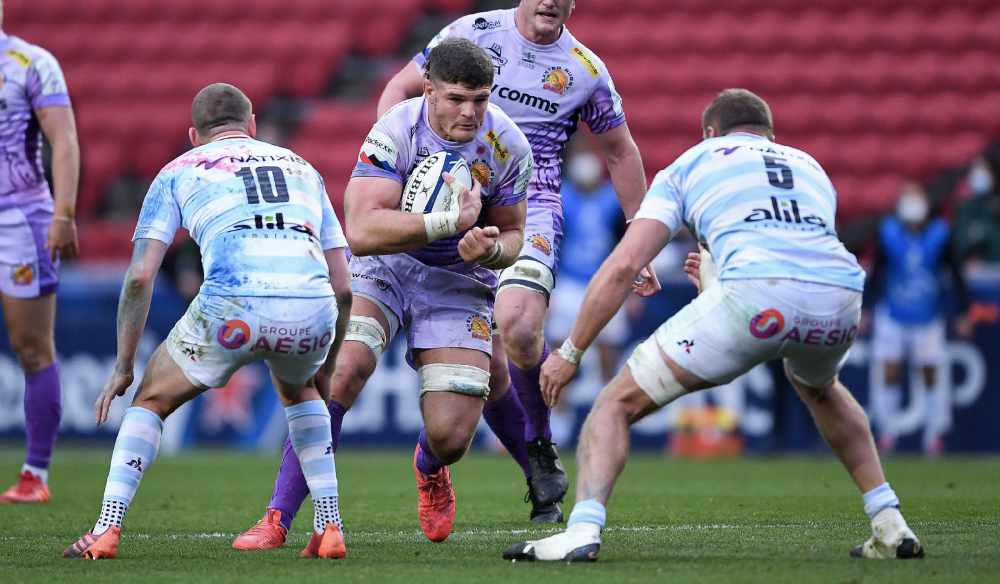 Dave Ewers in European action (courtesy: EPCR)
Ewers have to be kidding me!
Two Exeter Chiefs players have been banned from playing for the next four games, following dangerous tackles against Sale on Saturday.
Sam Skinner and Dave Ewers have been handed the penalty by the RFU. It means they will miss the home semi-final at Sandy Park this Saturday (19 June) against Sale Sharks again, the final at Twickenham, if the team gets through and the start of next season too.
Both players have contested the suspension.
Skinner was sent off on the 53rd minute after a yellow card was upgraded to red during the match. Ewers was cited his after the match was reviewed by officials. Both suspensions are for tackling at force with the shoulder to head.
This brings the number of red cards for the Premiership to 23 red cards this season, compared to eleven in 2019. Officials are punishing dangerous tackles more severely as the game emphasises player safety.
Chiefs' director of rugby Rob Baxter said: "There is a huge amount of inconsistency and a lack of empathy for the players involved. The game needs to be about the players who are playing now, and it doesn't feel like that at all"
"There really needs to be a move by the players playing in the game to take hold of this, because if you ask a large swathe of the players who are playing now, I don't think they would agree with what is currently happening," Exeter's director of rugby added.
"None of us are naive enough to not realise that this has come about based on movements by ex-players, which is fine"
"I don't necessarily have a problem with it, I'm not saying they shouldn't have a say in things, because of course they should because they've been playing the game"
"But the players who are playing the game should also have an equal if not bigger say. I get a growing feeling amongst the players I talk to, not only at this club, that that's something that's not far off happening.