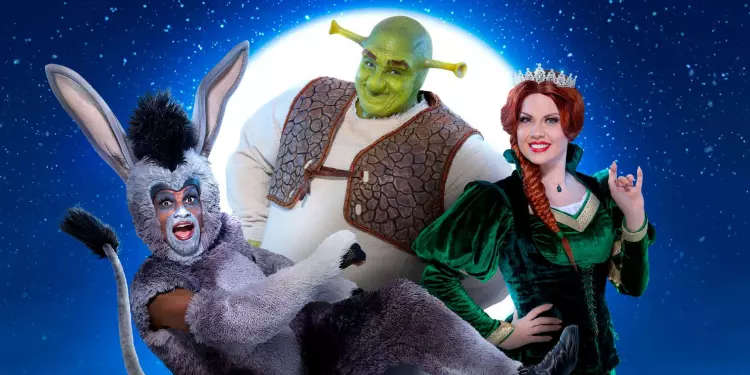 Don't be an ogre. Kids will love this show.

Once upon a time, long long ago, a Hollywood film studio created a grumpy green ogre with a Scottish accent, a princess called Fiona (also an ogre) and a hyperactive donkey. The goodies battle the evils of shorty Lord Farquad before the ogre gets the girl. The end.
Except that was the beginning, and Shrek subsequently spawned Shrek 2, Shrek the Third and Shrek Forever and, later, a hit stage musical.
Although it opened in a land far, far away, it's back for a UK revival. Shrek Returns. And it starts at the Plymouth Theatre Royal, and families are enthralled.
The story is familiar. Fairytale creatures turn up at Shrek's swamp. If he wants them off, he's got to get Fiona to Farquad's castle, except he falls in love, the donkey plays matchmaker and all's well that ends well.
Gags from the film transition to the stage along with the characters, but a whole song and dance show envelops the lot. Fart and poo references get the biggest laughs, so make of that what you will.
Westcountry boy Antony Lawrence dominates as Shrek, Joanne Clifton is a fabulous Fiona and Brandon Lee Sears as engaging a Donkey as Eddie Murphy, with the benefit that we actually get to see Sears. James Gillan is pantomime villain Lord Farqaad, and that's no bad thing, and they are supported by characterful fairytale creatures.
Sadly for a musical, the thing letting the show down is the music, which is no fault of the performers or band. But other than encore I'm a Believer, the songs are instantly forgettable, and no one is signing a happy song on the way out of the foyer.
Compensation for the average songs comes in the form of outstanding dance, lavish production, exceptional performance. If you take in the wonders of what's being put in front of your eyes, the show is a winner. Arguably, the spectacle could be bigger, and transitions smoother. If you're a stunted evil king being incinerated by a dragon, a trap door may deploy you better to your doom than clambering off a platform in the manner of an arthritic octogenarian.
But let's take this for what it is: a show with high production values and a winning franchise that's going to attract families. If you're a grumpy grown-up anxious for the best that musical theatre can present, you may be disappointed. So don't be an ogre. if you have young ones, they're going to find true love at Shrek.
Shrek now tours theatres across the UK.